In every town and city, greenery is one of the most important elements. Green leisure areas, such as parks and forests, attract many residents and tourists on a daily basis. In these places, not only long-lived, shade trees, but also beautifully colored flowers play an important role. It's no secret that nature attracts people, and the presence of greenery makes them feel better at once
For this reason city authorities prioritize flowers in the city when creating a human-friendly public space. Although decorating parks or squares with plants is not a problem, finding a suitable place for greenery closer to the center is much more difficult. It does not mean though that where built-up areas prevail and it is difficult to find even a small piece of lawn, you cannot provide a natural, vivid decoration. Thanks to our ideas you will discover how to decorate your town with flowers, not necessarily planting them directly in the ground.
A colorful touch on a concrete square
Places that are very often criticized by dissatisfied residents are squares. The most common complaint is the lack of greenery and the ubiquitous concrete. Even if well-meaning city officials would like to solve this problem, it is usually not possible to completely remove the hard surface. Is it because of the high costs, or due to the fact that the place would no longer fulfill its function (as the square with its large open space, is perfect for organizing rallies, demonstrations, concerts or happenings).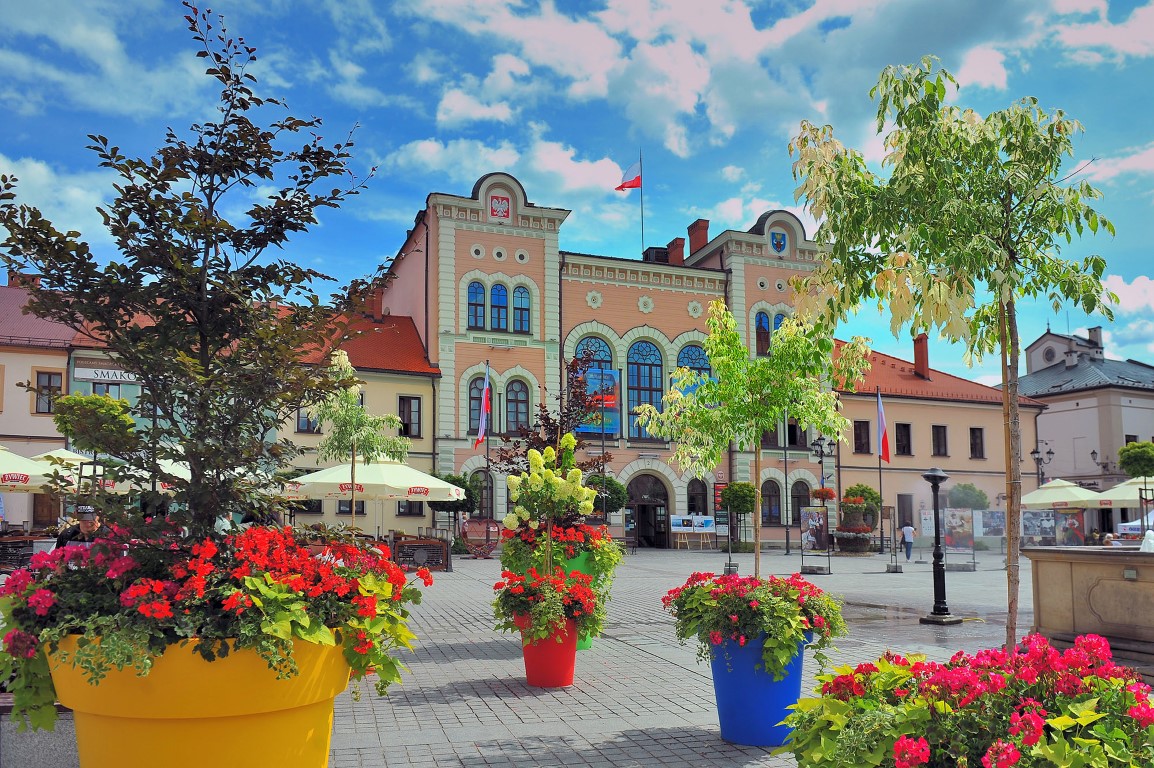 Looking for a compromise, it is enough to reach for large pots. This is a great solution that will allow you to launch some greenery but also make the concrete landscape less of an eyesore. Flower containers in the city can be made of various materials. Although concrete pots have become the most popular ones, they are not completely without their drawbacks.
First, you have to take into account their high weight, and thus the lack of mobility (this can turn out to be extremely problematic when organizing events in the square). Secondly, gray colors can create a gloomy and monotonous mood. In addition, some models look like from a bygone era and do not fit the modern city concept. Another option is wood that looks interesting and elegant. However, to maintain its aesthetic appearance, frequent impregnation is necessary.
An alternative to the above materials can be polyethylene, which is equally durable and resistant to external conditions. Flower containers made of it can have any color and shape, e.g. a simple geometric form, look like a classic flower pot or a spaceship shape. The greatest advantage of such urban pots is their mobility. They are heavy enough not to tip over due to strong winds, and light enough to be moved with a forklift (the Gianto model has special holes in the bottom to facilitate safe transport).
This solution allows to change their location whenever and wherever it is required. During events, the pots are best placed at the edges of the square. In this way, the event zone will be separated and a lot of free space will be obtained. After the event, the containers with the plants will be moved back to their place, becoming the center of attention again.
Railing planters – no more monotony
Railings are an essential part of every bridge, and in public spaces they are also used to separate the pavement from a busy street. Despite the fact that vertical, steel rungs guard safety, they often become an unsightly element of the surroundings. Leaving them like this is simply a waste of potential for additional space for flowers in the city.
In this case, use special pots for railings, which, if properly planted, will make the balustrade aesthetically pleasing, turning it into a unique urban decoration. Additionally, there is a good chance that the bridge, full of flowers with a view of the river, will become a new landmark of the town and a perfect photo scenery for residents and tourists.
The key to creating a durable natural decoration is the use of solid railing planters, which should be:
made of resistant material,
equipped with a professional fixing system that will protect the decoration against theft or fall,
equipped with a drainage system for excess water – a railing planter with a double bottom and a drain plug is a perfect solution.
In addition, the urban flower pot can have an additional insert, thanks to which, it is possible to replace the plants with no need to disassemble the entire construction. Therefore, you can quickly and easily change the plant composition even several times a year.
Walk along the blooming street lamps
Some lovers of walks choose green areas, others prefer urbanized surroundings. The long street, promenade, avenue are perfect places for a stroll. An indispensable element of such places is a line of street lamps that illuminate the route after dark. They are part of our next idea for flowers in the city. The plants placed on high posts are perfectly visible, do not take up place, creating a coherent, aesthetic public space.
As in the case of railings, the most important aspect will be to choose the right container for street lamps. Assembling a model with an insecure fixing system not only can destroy the decoration, but also it can injure someone if falling down. That is why, it is worth choosing only proven brands that have been on the market for many years.
For a stunning effect, choose hanging plants (such as pelargonium, surfinia, ipomea). They should be planted quite densely (about 25 seedlings). Thanks to this, you will get a lush flower ball.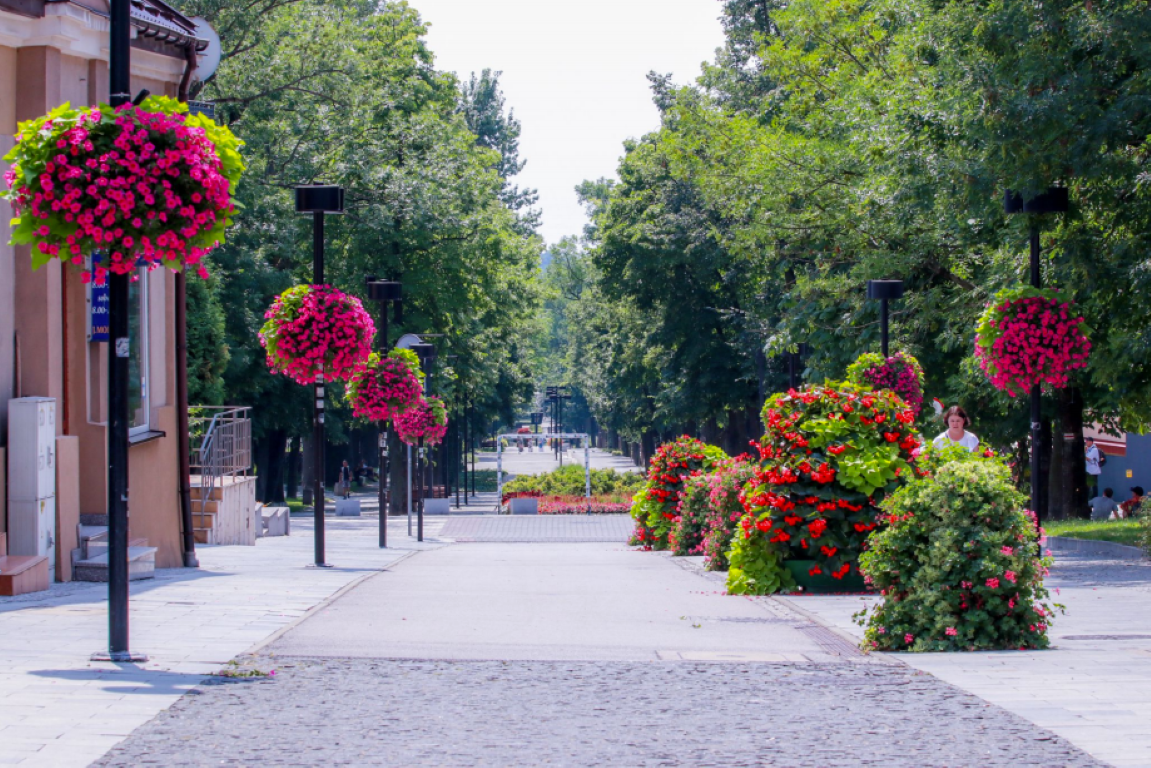 Flowers in the city – a way to have a nice rest
Comfort, aesthetics, usability – all aspects must be taken into account when arranging public space friendly to tourists and residents. In the city, flowers may not be enough to encourage people to spend time in the market square or promenades. In addition to natural decorations, one will need benches, garbage cans, bicycle stands, etc.
Very often, creating a coherent composition from all these individual elements of small architecture turns out to be a real challenge. As we support simple solutions, we recommend modular street furniture because they can be perfectly adapted to your public space, e.g. very original large pots connected with a bench winding around them – the Wave model. You can choose a version with one, two, three or even five plant containers. It is an interesting idea for flowers in the city or even trees that will provide shade and make rest even more enjoyable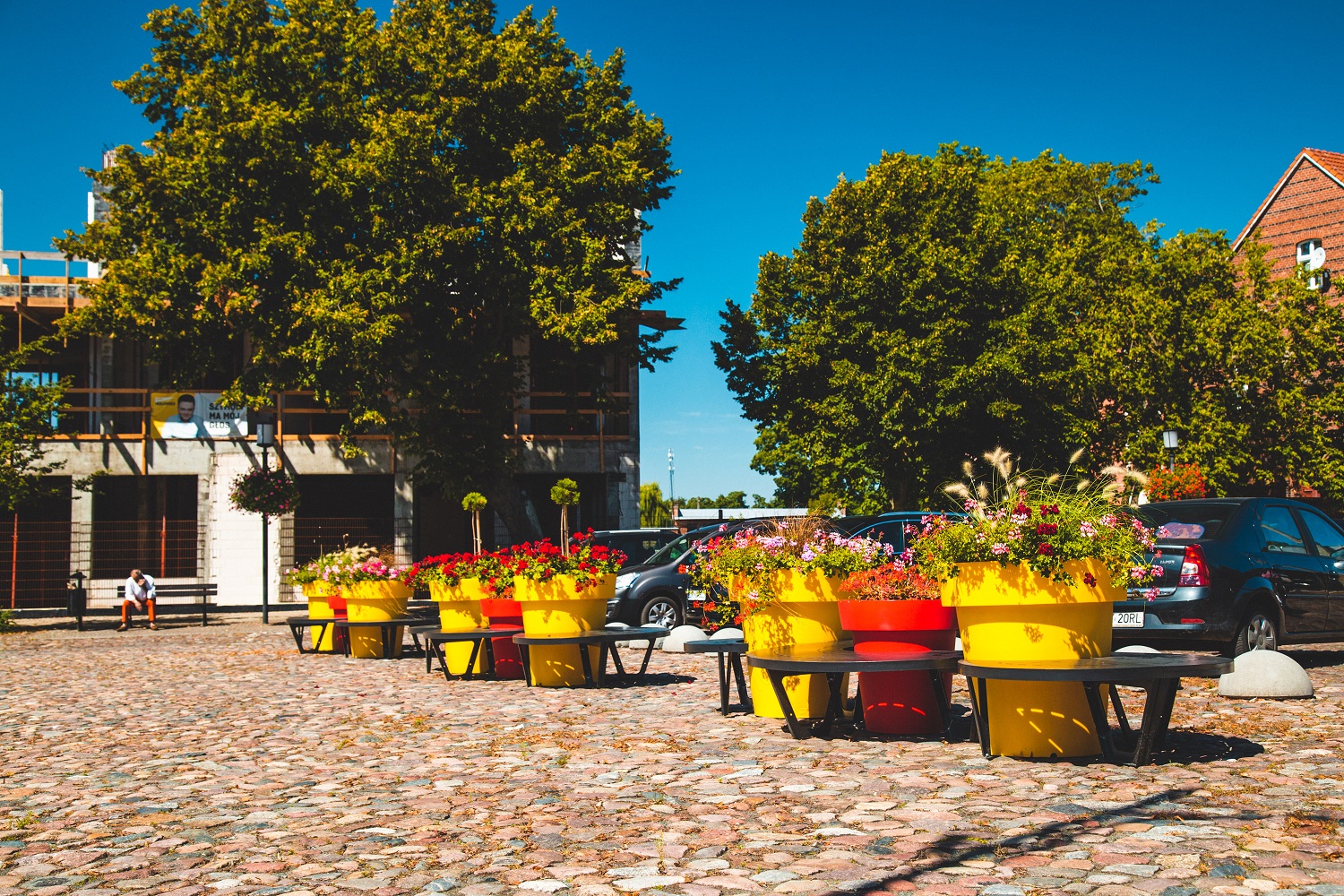 Emphasizing a unique place
In every city one can find places, which require to be emphasized. A monument commemorating an important person or event surrounded by blooming plants look so much nicer. Vivid decorations will surely attract the attention of passers-by. They will encourage people to learn more about the history and monument itself.
The standing Flower Towers are great for this role. Two identical planters set on both sides of the monument look great and give a sublime mood. When it is located on a large square, one can try larger number of decorations or choose a tall model. The Flower Towers are available in the height range of 70 cm up to 340 cm. Therefore, you can easily choose the appropriate variant for the surroundings. And as to the plantings, there are many possibilities to create an appropriate composition. If you want to be inspired, take a look at a few examples of decorations.
Pyramids with color plants set at the entrance door to the building will give a floral welcome to all guests. They will be the first element to catch the eye of anyone entering. Thanks to this, one can easily locate the main entrance. In addition, it is a great way to draw attention away from not very representative facade of the property.
To emphasize the uniqueness of the place, not only the Flower Towers can be taken advantage of, but also large urban pots. Due to their substantial size, it is possible to plant not only seasonal plants (such as surfinia or geraniums), but also perennials and even trees.
Flowers in the city – a decoration that makes a difference
There is no doubt that flowers in the city play an important decorative function. Setting them in places that do not have direct access to the ground is often problematic. In such cases, one needs to be creative and reach for solutions that will still allow to launch plants there. Large urban pots, the Flower Towers, planters for railings or street lamps are perfect for this role. Thanks to them, it is possible to make the public space greener, more beautiful and pleasant for residents and tourists.