What happens with Christmas decorations in public spaces? Will the current world situation and the energy crisis force city authorities to look for savings in the field of Christmas decorations? Rumor has it that the towns are planning to significantly reduce or completely abandon Christmas illuminations. Does this mean that there will not be much-liked and awaited winter atmosphere? Fortunately, we have an idea that will make the public space delightful – it is enough to go for modern Christmas decorations that do not require lighting.
Christmas illuminations and the energy crisis
Electricity prices are alarmingly rising. The increase, already in hundreds of percent, means that both the ordinary people as well as the president, mayors or heads of the municipality must face this problem. A good solution seems to be to reduce electricity consumption in order to face the energy crisis unscathed. No wonder then that cities are looking for savings on electricity which is largely consumed by Christmas illuminations.
The decision is really tough because these are decorations that have become a permanent element of the urban landscape. Buildings, trees, and Christmas constructions (Santa's sleigh, Christmas balls or Igloo) illuminated by lamps have recently become an inseparable element of the most popular places, and the flashing lights enjoyed not only the youngest, but also adult residents and tourists.
Limiting holiday illuminations will certainly have a positive effect on the bills, but it cannot be denied that it will come at the expense of the cosy atmosphere that so many people wait for all year round. We do not envy cities having to make decisions on this topic. However, the lack of Christmas lights does not necessarily mean the lack of Christmas decorations. We have prepared four interesting ideas that will make the space still delightful in this period of time.
Modern Christmas decorations without electricity
It gets dark quickly in winter, which is why glowing Christmas decorations seem to be the best and most effective idea. This is not the only option though. Modern Christmas decorations do not need lamps to shine!
Christmas baubles not only for the Christmas tree
Beautiful round decorations usually appear on Christmas trees. Large X-Mass Balls from TerraChristmas are a completely different scale of decoration. Their huge size means that their use is not limited only to hanging on a Christmas tree. They can be an independent, unique decoration of public spaces. Importantly, XXL baubles in each city may look different, because they are designed on an individual order. Not only does the size, color and finish change, but also the method of installation. Thanks to this, large modern Christmas decorations are perfect for creating Christmas compositions. Here are some examples from different cities:
Rietberg – large Christmas balls scattered around the square
Rietberg surprised the inhabitants with very original decorations for Christmas. Red and silver baubles of various sizes were placed in different parts of the town. There are as many as 25 individual balls and 3 pyramids consisting of 4 baubles. Modern Christmas decorations are placed on durable, steel stands.
Plattling – Christmas baubles tailored to your needs
Four XXL Christmas balls in Plattling were created on the basis of an individual project. Each of them was decorated with Christmas wishes and the emblem of the town. The decorations are placed on decorative steel stands, which have been aesthetically covered with coniferous branches. 
Museum of the Second World War – modernist architecture with modern decorations
The Impressive building of the Second World War Museum in Gdańsk, commissioned in 2017, has been decorated with Christmas elements – two magnificent pyramids consisting of 10 baubles. Each single ball is 80 cm in diameter, so the entire decoration measures as much as 3 meters. Additionally, one of them has a sticker with the museum's logo on it.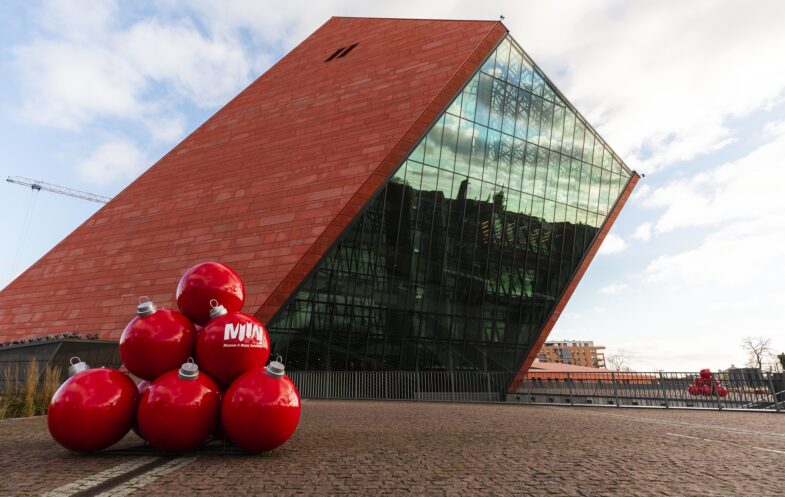 Christmas decorations in an openwork version
Large baubles, cones resembling a Christmas tree and stars, all these elements made of thin but very durable fiberglass strips are another proposal that delights even without lighting. Check out our post about openwork Christmas decorations.
Classic Christmas figures
To avoid the need to illuminate Christmas decorations, it is worth focusing on unique, eye-catching elements. This is what classic XXL Christmas figurines are like. Most often, you can admire the Rudolph reindeer in public spaces, but this is not the only option. Next to the Christmas tree a statue of St. Nicholas, preferably one on a 1: 1 scale, will look great (the largest images of a friendly gentleman bringing gifts are up to 180 cm high). You can add a cute snowman to the set or create a land of sweetness by choosing figurines of candies and sugar canes. In front of the entrance to the building it is worth setting guards in the form of a nutcracker.
The full range of Christmas figures is available in the TerraChrsitmas catalogue.
Decorations compatible with XXL pots
Wouldn't it be beautiful if the decoration, instead of only a decorative function, also allowed to store the pots in a very aesthetic way during the winter, without changing its location? The delightful flowers in pots are an inseparable element of many cities, but when the season ends and the one-year-old specimens disappear, the colorful container filled only with earth does not look very good. Fortunately, it does not need to be stored, it can stay in its place and continue to delight, you just need to choose the right Christmas cover for it.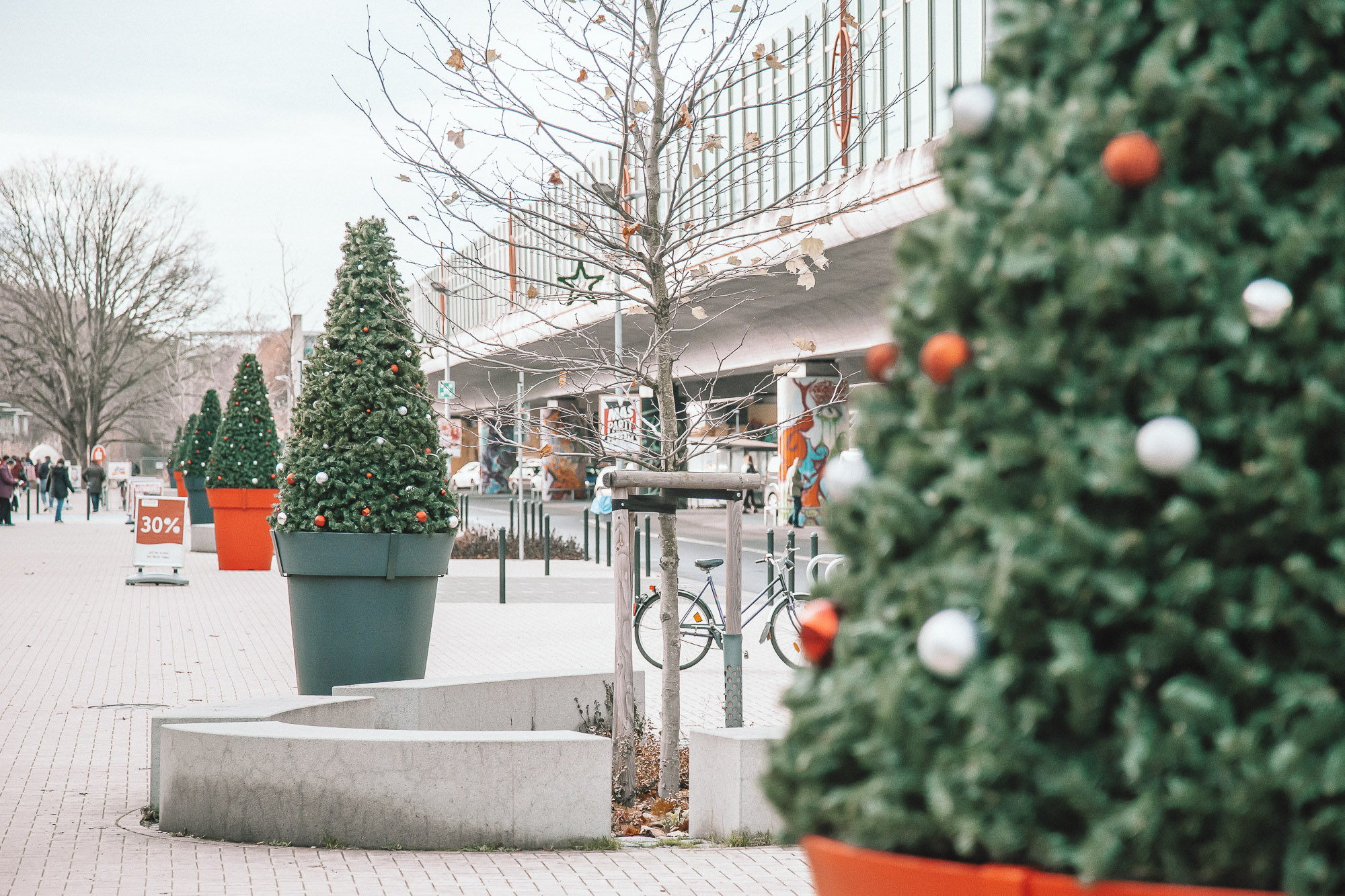 This solution is already known in the case of classic Gianto pots. Custom-shaped containers such as the Gianto Sito, Gianto Tablo, Gianto Grande and Plane Ring Lux also have a chance to embellish this season. You can choose a classic cover made of high-quality garlands – resembling a Christmas tree and openwork decorations in the shape of a ball or cone. Do you have pots from the Urbano collection (TerraForm) and you want to decorate them? Contact your Terra Group sales advisor, who will help you choose the right cover.
Beautiful Christmas without illumination
Modern Christmas decorations are not only sparkling lights. Time is difficult and the search for savings is definitely not surprising, but it is worth replacing the illuminations with other Christmas decorations so that the public space looks festive despite the energy crisis.