Street furniture is a very important part of the city. For an aesthetic effect one needs pots, for neatness – garbage cans, for comfort – bicycle stands, and for a moment of rest – urban benches. However, to be successful in planning, it is not enough just to place them in city space. It is good to choose street furniture that will not only perfectly fulfill its role, but will also be consistent and suited to the surroundings. How to do it? Take an example from Lubsko, which can boast an eye-catching arrangement in front of the town hall, where a curved planter bench appeared!
City benches – which one to choose?
Not all city benches are the same. Very popular classic wooden models with a backrest are slowly giving way to other creative projects. Oval shapes are popular, e.g. a circle bench around a tree and an impressive combination of materials. It is best if design goes hand in hand with functionality, thanks to which the element of small architecture becomes an inseparable part of public space.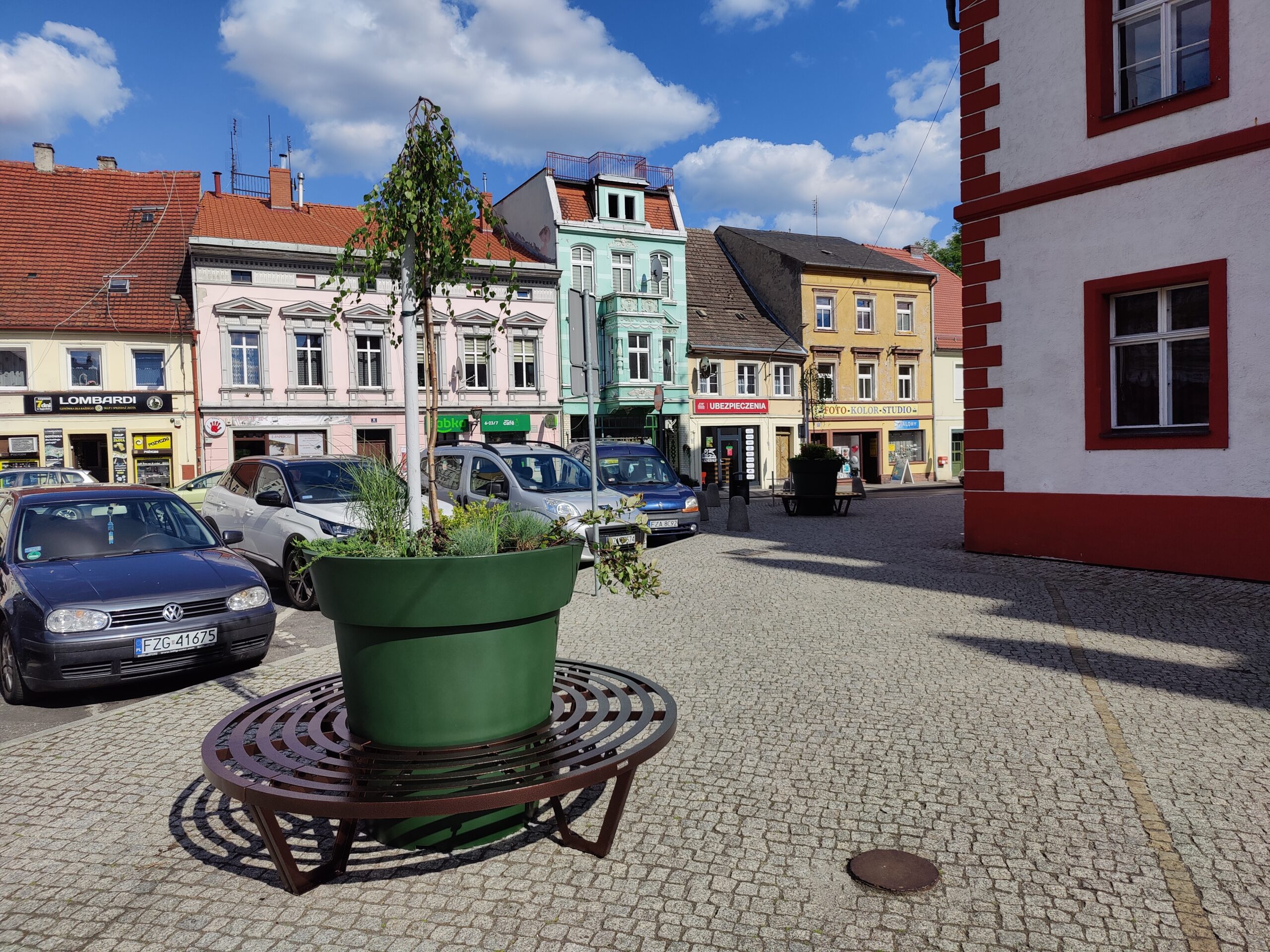 What to pay attention to when choosing a city bench:
material – wood, metal, concrete, plastic – what counts is aesthetics, but also durability and cost of maintenance. Wooden city benches require impregnation, otherwise they will quickly lose its appearance, but also they can be damaged.
ergonomics – the main role of the city bench is to create a place to rest for passers-by. Everyone needs to sit down for a moment to catch a breath, repack things or sip a favorite take-out coffee. However, overly comfortable seats can contribute to some problems. Simple but lovely benches with backrests can become a favorite spot for local rascals who will occupy them all day and night.
additional functions – the city bench does not have to fulfill only one role. Seats with a solar panel and smartphone charging ports are becoming more and more popular. Also an interesting option is a curved planter bench in which you can plant beautiful plants.
own style – if the bench is to look good, it should match the surroundings. Therefore,  individually designed solutions will be a great option.
stable fixing to the ground – without fixing, there is a chance that the city bench will fall over or will be displaced by those who do not respect public property.
Curved planter bench chosen by Lubsko
The town hall in Lubsko is a very interesting historic building. The Renaissance building with a white-brick façade has become a showcase of the town. Due to their historical character, there was a need for city benches that would not be too modern and would attract attention at the same time.
The choice fell on the Zebra city bench from TerraCity. The round seat is perfect for squares, because it fills the undeveloped space, and passersby can sit on it from all sides. In addition, the model is equipped with a large pot, in which one can plant perennials, shrubs and even trees.
As standard, the round Zebra bench has colorful rungs that look great with vividly colored plant containers. However, the project of Lubsko required subdued shades that would harmonize with the historic nature of the surroundings. For this reason, the multi-colored steel parts of the seat were abandoned in favor of a single color: ancient copper. Then the dark green pots were selected. Thanks to this, the city benches in Lubsko are one of a kind, and more importantly, they perfectly match the surrounding buildings.
Bench with planters from TerraCity
A curved planter bench will be great for  any space, especially because the color of the seat and pots can be individually adapted to your needs. In addition, if you are not a master of planning and aesthetics, you do not have to choose blindly. The Terra Group team will help you decide on the most suitable colors for your surroundings, and then provide the finished effect on the visualization. Contact your account managers and get more than just a city bench.