Building a local community that will spend time together and take care of urban space can be a very difficult task. The pandemic circumstances had a huge impact on the increasing distance in relations between neighbors, which are only now beginning to recover. However, more and more cities are starting to propose interesting ideas for activating the local community. Working together can have a positive impact on all residents — it's a good opportunity to get to know each other better, exchange ideas or just have a nice time.
It turns out that painting Easter eggs together can be a great idea for a local project. Such eggs can be used to decorate the city. In previous years, this idea was already implemented by e.g., Karpacz, Racibórz or Skała. So, how to organize such an action?
Ideas for painting Easter eggs together in your city
Spring brings higher temperatures, which is a great opportunity to finally spend some time outdoors. Organizing a local action of painting Easter eggs with such a pleasant aura will surely delight the residents! After long winter months, you can finally go back to walking and playing in the park. Painting Easter eggs together can be the perfect start to the spring season, which is full of various outdoor activities.
It turns out that there are quite a lot of ideas for preparing XXL Easter eggs. Thanks to the fact that many cities have already carried out such projects, we can take a closer look at them and be inspired by their actions. Importantly, every year more and more cities join this action, thanks to which many markets were decorated with beautiful, hand-painted decorations. Admiring them is a pleasure for both passers-by and people who took part in the project!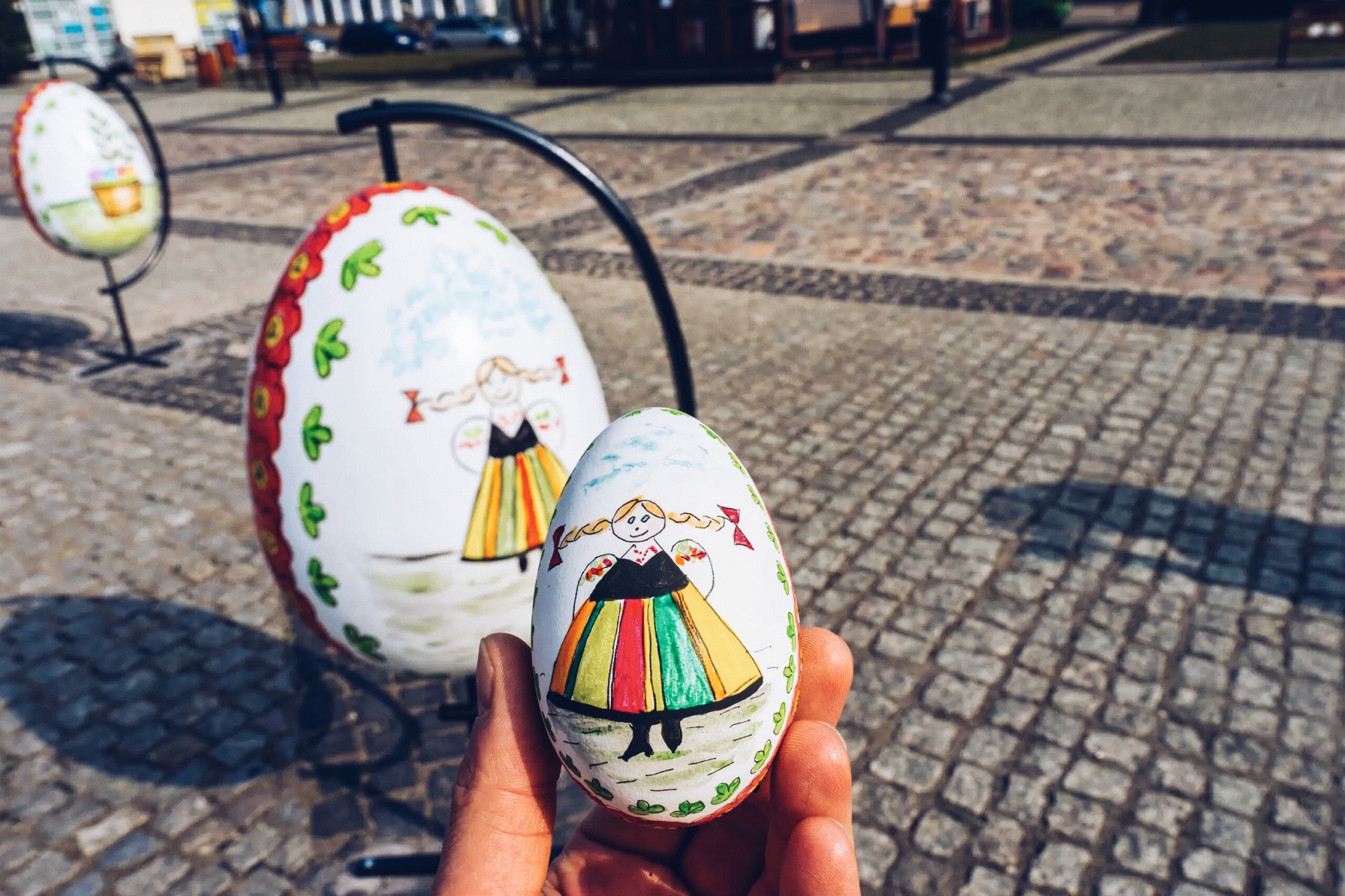 Easter eggs as an element of the city game — Karpacz
A great idea was implemented in Karpacz — colorful Easter eggs were used as an element of the town game. At the beginning, white, fiberglass, plain eggs from the Terra Easter collection arrived in the city. Then they were handed over to local artists so that they could decorate them according to their own ideas. The project involved, among others, Teresa Kępowicz, Renata Jaryczewska, Leszek Legut and Beata Makutynowicz. Thanks to so much involvement, about 20 such unique Easter eggs have already been created. In addition to local artists, Easter eggs were also decorated by children; and it's all thanks to art workshops at "Culture Station". Ready Easter eggs have been placed in various areas of the town — they have not been accumulated in one place on purpose, so that passers-by can look for them and enjoy the next prey during family walks.
The motto of this action was: "Hey seeker, spend this Easter in Karpacz!". As a result, the town was eagerly visited by tourists who could try their hand at a family outdoor game. Riddles created by the Mountain Spirit were attached to each of the Easter eggs. Such a thematic walk around the area was an entertaining experience for both residents of Karpacz and tourists from all over the country!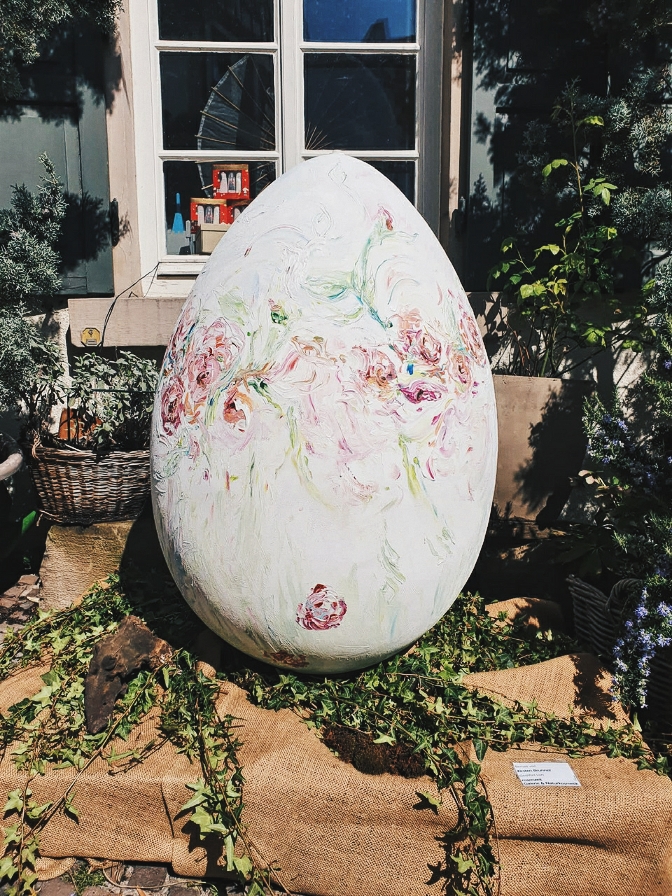 Painting Easter eggs with children — Bad Wimpfen
Another extraordinary undertaking is choosing white XXL eggs by the local government, which will be handed over to various institutions so that school children can decorate them together according to their own ideas. It's obvious that children are very creative — so it's worth giving them a chance to express themselves in this way! The German town of Bad Wimpfen followed in these footsteps and donated a white egg to a local kindergarten. The youngest children took part in painting an Easter egg by imprinting their hands on the surface of the egg. You can see the effect below.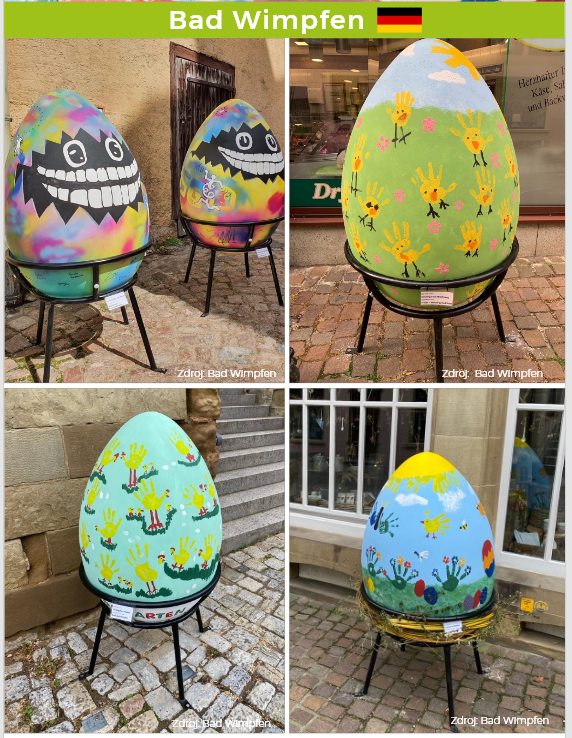 Easter eggs painted by local artists — Brzesko, Kórnik
Some towns also came up with the idea of placing Easter eggs on the market square or promenade, where all residents can participate in the creation of Easter art works. Local activity organized in this way will surely be remembered by all participants, and will also give a lot of publicity to the commune. If your town is full of local artists, it is worth using their potential and inviting them to cooperate! Such actions were organized by Brzesko and Kórnik, the effects of which you can see in the photo below. Such unique Easter eggs emphasize the artistic atmosphere of the town, and will also provide works of art that the commune will be able to boast about for many years.