Christmas decorations appear in houses, on city streets, but also in restaurants, shopping centers and hotels. While creating a delightful arrangement in your own home is simple and pleasant (as you can find beautiful, atmospheric accessories in every store), in the case of larger spaces, choosing the right Christmas decorations can be a bit more difficult. In this post, we'll show you how to decorate a hotel, both inside and out.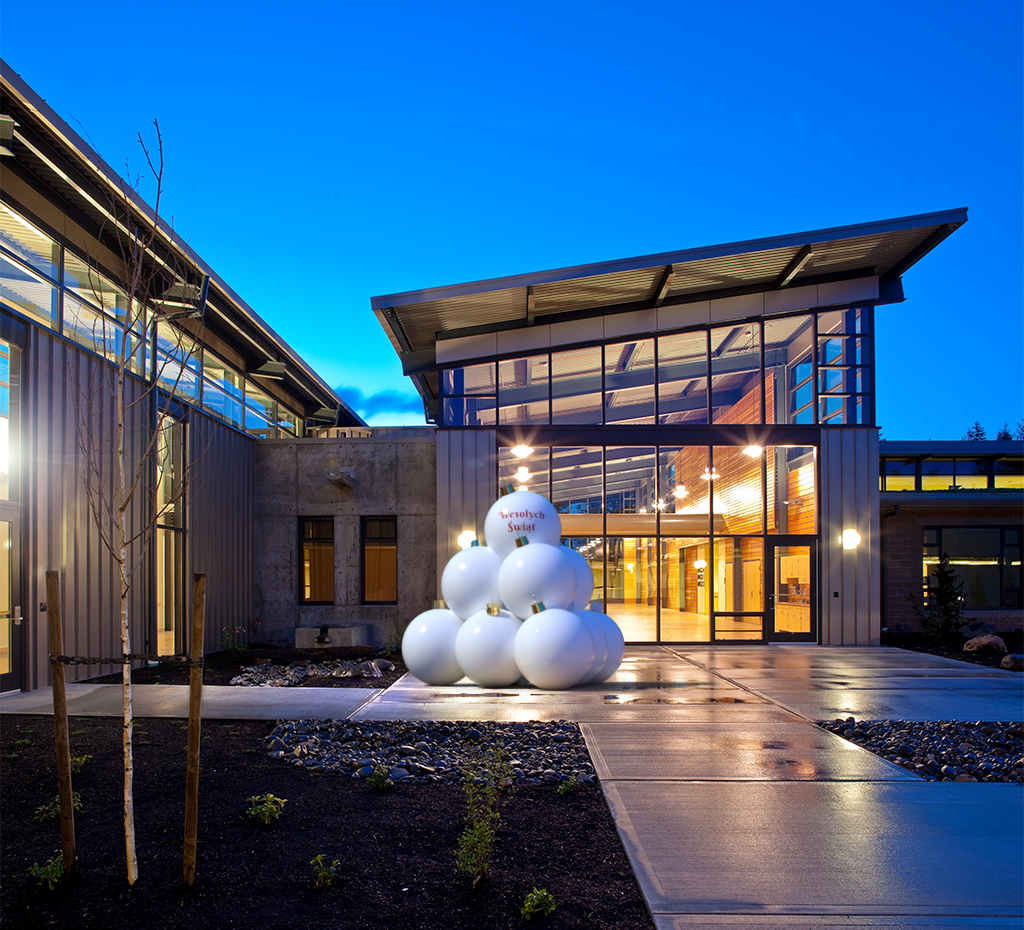 Why is it important to decorate a hotel for Christmas?
More and more families give up traditional Christmas at home in favor of spending them in some other wonderful place. A trip to the mountains, to the sea or other interesting place during the Christmas season is a great opportunity for hotels, apartments or guesthouses.
In order to make the stay of guests more pleasant, it is good to prepare for this period of time. It can be a special menu or additional attractions for children, but the most important aspect is the unique Christmas atmosphere. The easiest way to achieve it is by appropriately decorating the hotel. A large Christmas tree and Christmas lights are necessary, but to really stand out from the rest, it is worth choosing exceptional Christmas decorations.
Decorations in front of the hotel entrance
As a rule, the greatest attention when decorating is given to a reception area and a main hall. In our opinion, the best recommendation of a hotel is a nice entrance to the building and its surroundings. The appearance of external space will certainly affect the first impression of guests, so skipping this part is a real mistake. There are many ways to decorate an entrance to a hotel. If you want to hit the arranging mark, choose Christmas decorations that match character of a building and its size.
If there is a lot of space in front of a hotel entrance, a pyramid made of XXL baubles will be just perfect. This is an extraordinary, large elements that often decorates squares and the Old Town. Such a structure can have three levels (10 single baubles) or two (4 baubles). In addition, you can adjust it to your needs. You can choose the size, color, but also a personalized sticker, e.g. with the name of the hotel, logo or Christmas wishes.
In the case of hotels that have an entrance directly on the street and cannot afford Christmas decorations in the XXL format, we recommend choosing two smaller decorations placed symmetrically on both sides of the door. Our proposal is a figure of a nutcracker or pots with Christmas trees.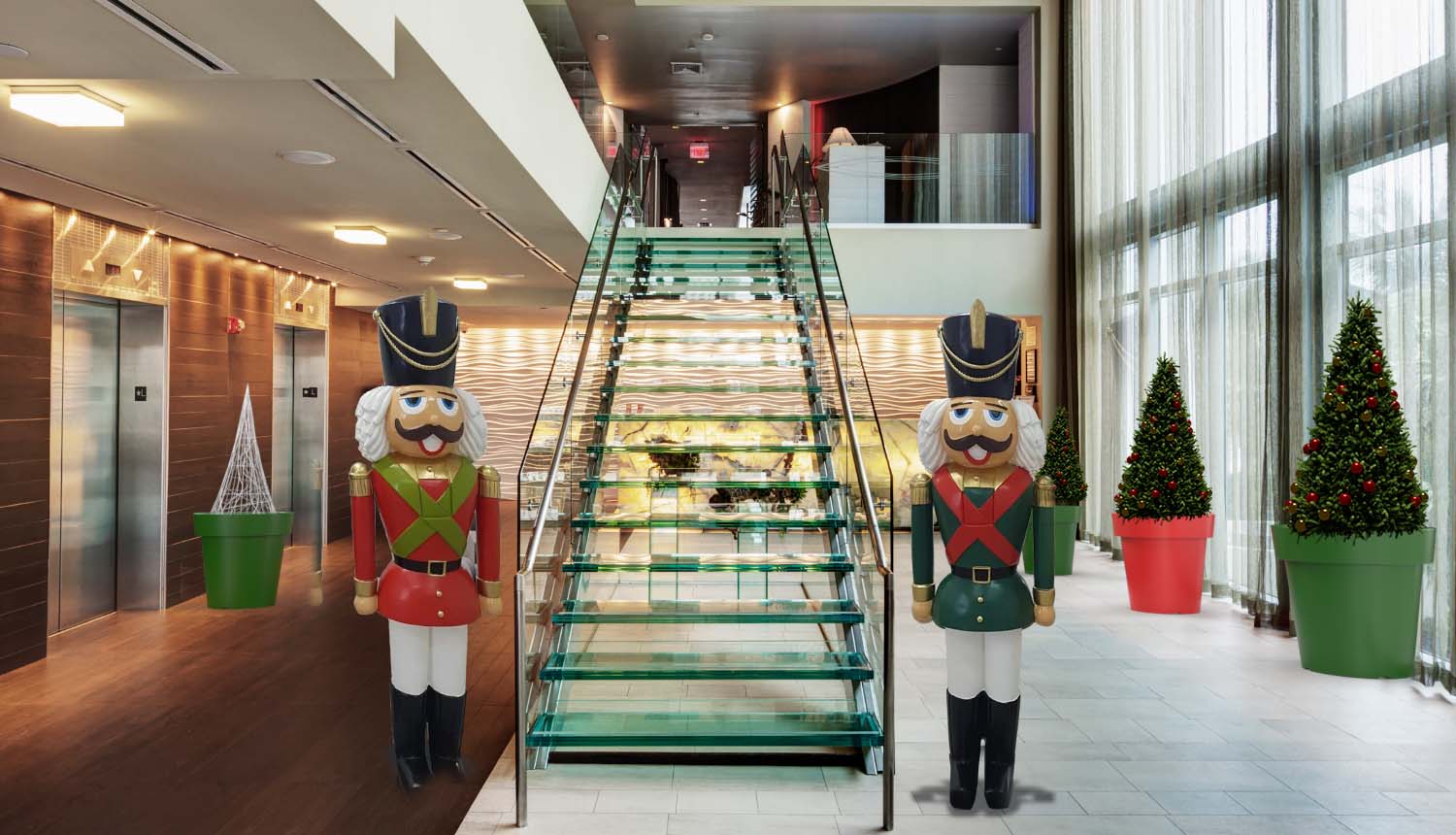 Hotel reception – the perfect place for decorations
The reception is usually the first point of contact between the staff and guests, and there should also be a Christmas atmosphere here. However, it is very important that Christmas decorations do not hinder work or movement. If the place is spacious, a standing XXL bauble with a sticker: "Welcome to the hotel! We wish you a pleasant stay" will be a very good idea.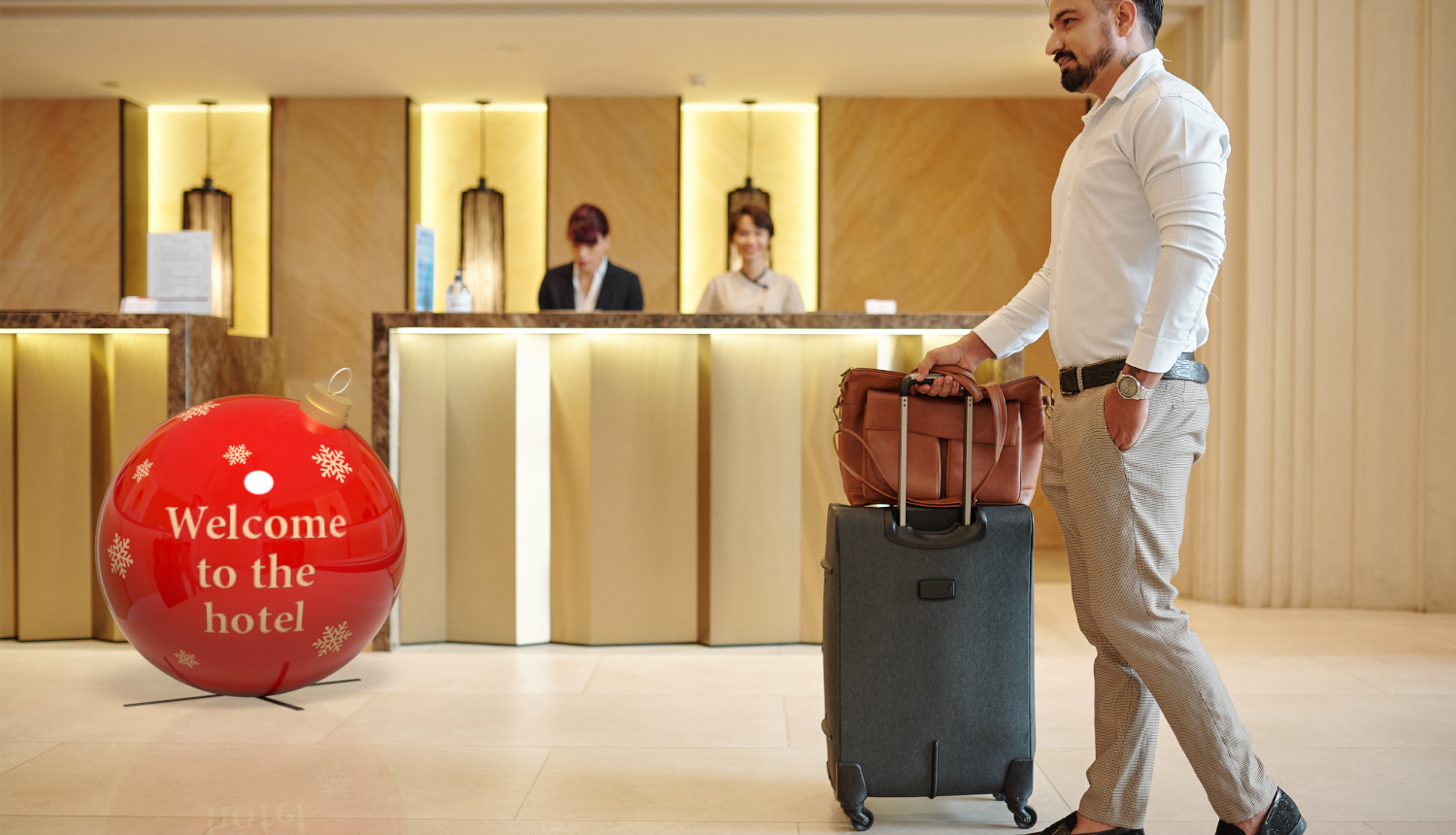 However, it will be a bit worse for narrow or tiny spaces. This does not mean that you have to give up this type of decorations. All you have to do is choose a few smaller Christmas balls and hang them from the ceiling. Thanks to this, they will not hinder movement and the effect may exceed all expectations.
Hotel hall – a decorative main point of a hotel
Large space of a main hall is an ideal place for the Christmas cherry on top. The standard is an impressive, marvellously decorated Christmas tree. However, to really use the potential of this place, it is worth paying a little more attention to it. The Christmas tree will look even better when it becomes part of a larger composition. Undoubtedly, it is the fragrant spruce that will play the first violin in the Christmas arrangement, but it is worth placing gifts, decorative balls and openwork stars under it. Such additions will fill the space, but also allow you to cover the rack, which does not always look aesthetically pleasing.
If a hall in a hotel is really big, you can have a splurge and choose medium-sized Christmas decorations, such as silver figurines in the shape of candy canes, candies or reindeer, which will perfectly complement the interior in a glamor style. It will be a good idea to place the throne of Santa Claus right next to the Christmas tree, which will certainly encourage guests to take a photo.
Think creatively and highlight your advantages
It is not advisable to decorate guest rooms, because not all of them celebrate Christmas. So what other possibilities are there to decorate a hotel? If you have already decorated all the standard points, it's time for an individual approach. Think about what distinguishes your place. It can be a modern patio, roof terrace, garden with a view of the mountains.
Each space is an additional chance for special, Christmas decorations. A very interesting option are modular benches with pots and special Christmas covers. This is a great solution that will allow you to rest and enjoy the wonderful views all year round, and in winter it will become an eye-catching decoration.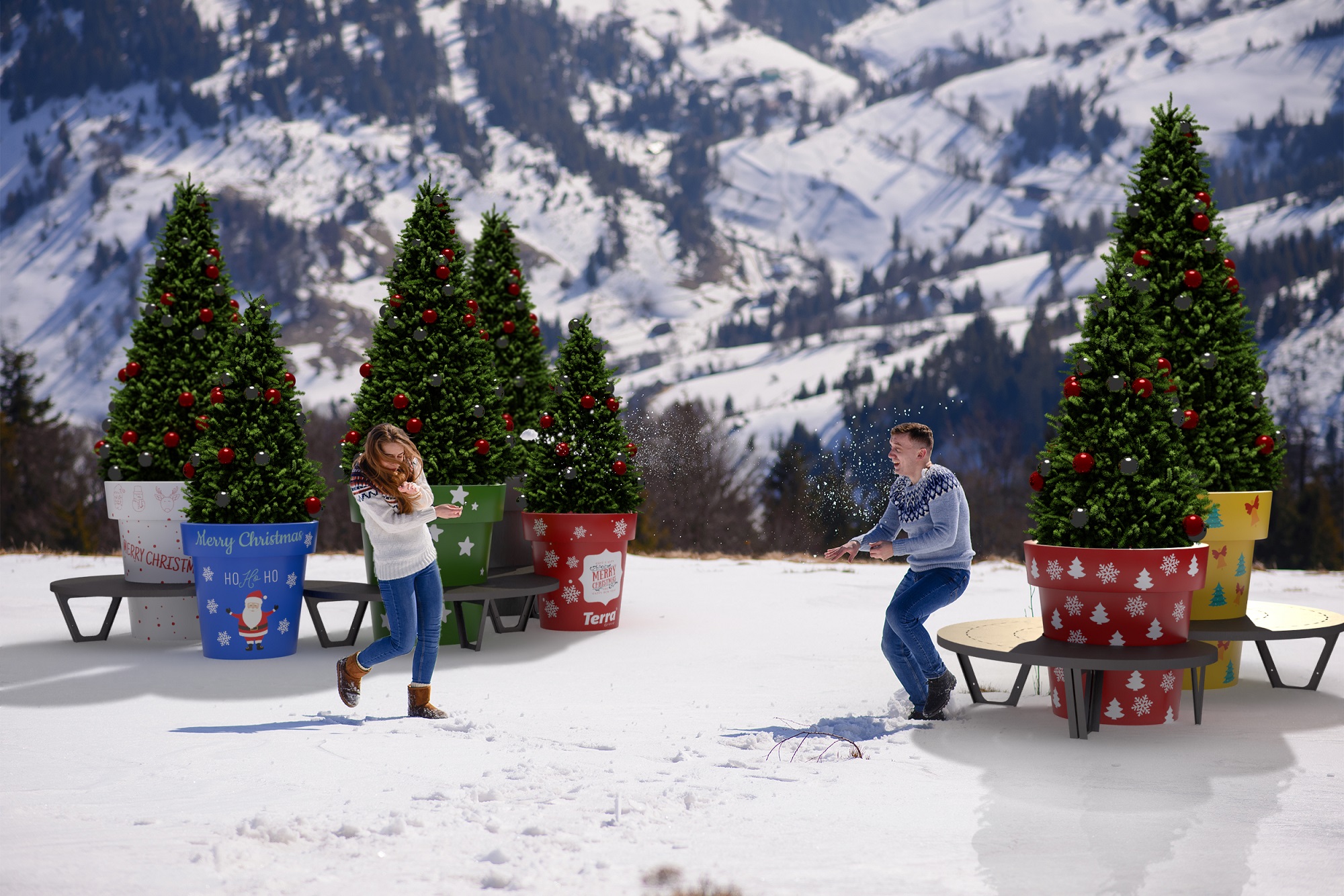 The magical atmosphere of Christmas in the hotel
There is no doubt that it is worth taking care of this long-awaited, magical Christmas atmosphere. It is enough to decorate the hotel in a unique way for Christmas to make guests even more satisfied, and this will make them more willing to visit it again, not only in the winter period.