Spring is just around the corner and together with March comes hope for more colors in cities, warmer temperatures and longer walks with the family.  Although there is still quite a winter aura, we are already looking for the first signs of the coming spring but also Easter, which can be a great opportunity to bring more beautiful flowers to any space. One of the most unique ideas may be planting of openwork Easter eggs — many Polish and foreign cities have already decided to do it. So, how to prepare such a natural decoration? Check out our guide and decorate your city step by step with Greenspired by Terra Group!

Choose the perfect openwork egg
Openwork eggs are a great alternative to other classic Easter decorations. The openwork elements delight with its surface, which nicely emphasizes the urban space, and at the same time adds lightness to the landscape. Openwork eggs go in a variety of sizes and colors, although the most common are red, green, yellow, and white. After all, these are wonderful colors associated with Easter. Eggs can reach a height of 60 to 152 cm! Thanks to this, they can be used to create an amazing spatial arrangement, choosing eggs in different sizes and colors, and then placing them on a city roundabout or promenade. Below, you can see an example of such a project in Zielona Góra, Poland.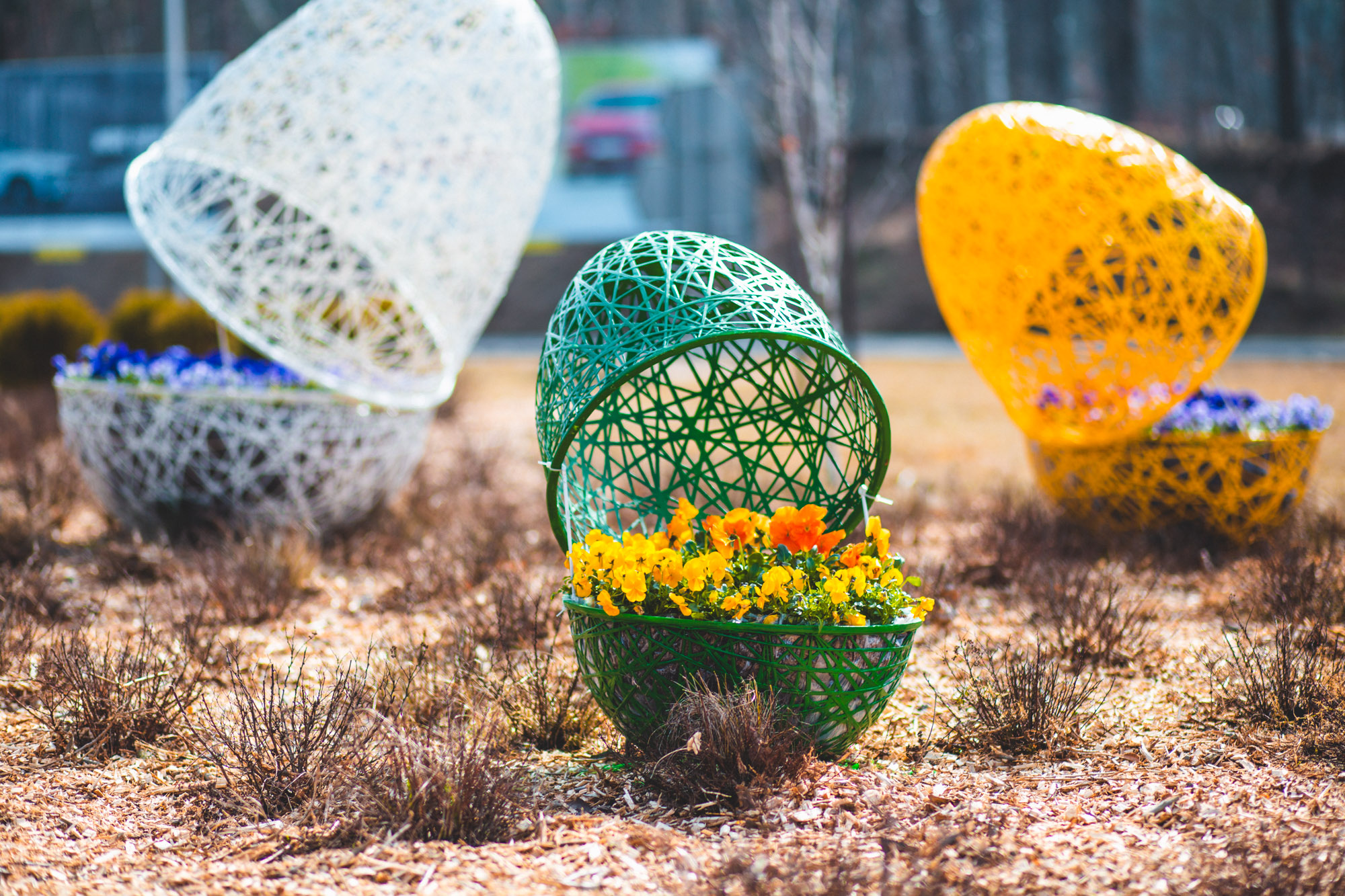 Line the bottom of the egg with agrotextile or garden foil
As openwork eggs have a rather specific construction, so it will be necessary to line their bottom with agrotextile or garden foil. Such material will protect the soil in the egg bowl and help to take care of the plants. Professional gardeners recommend, above all, agrotextile for such plantings, as it allows air and water to pass through. In turn, the main advantage of garden foil is its low price and ease of use. It is worth making a decision about the material after determining what flowers we are going to plant, as some of them have preferences that should be taken into account. One can also try to match the color of the agrotextile or foil to the egg — observing the projects from different cities, the most often chosen are bright colors of these materials.
Fill the bottom of the egg with suitable potting soil
For spring plantings, you will need universal horticultural soil. This is the best choice for classic projects, because flowers such as pansies, tulips, or narcissus do not need any special soil. If, on the other hand, you decide to plant some less common plants, make sure what kind of soil they require. Filling the egg with soil is very simple — once you have the padded bottom of the bowl, just fill it with soil, leaving some space from the edge of the container for the flowers.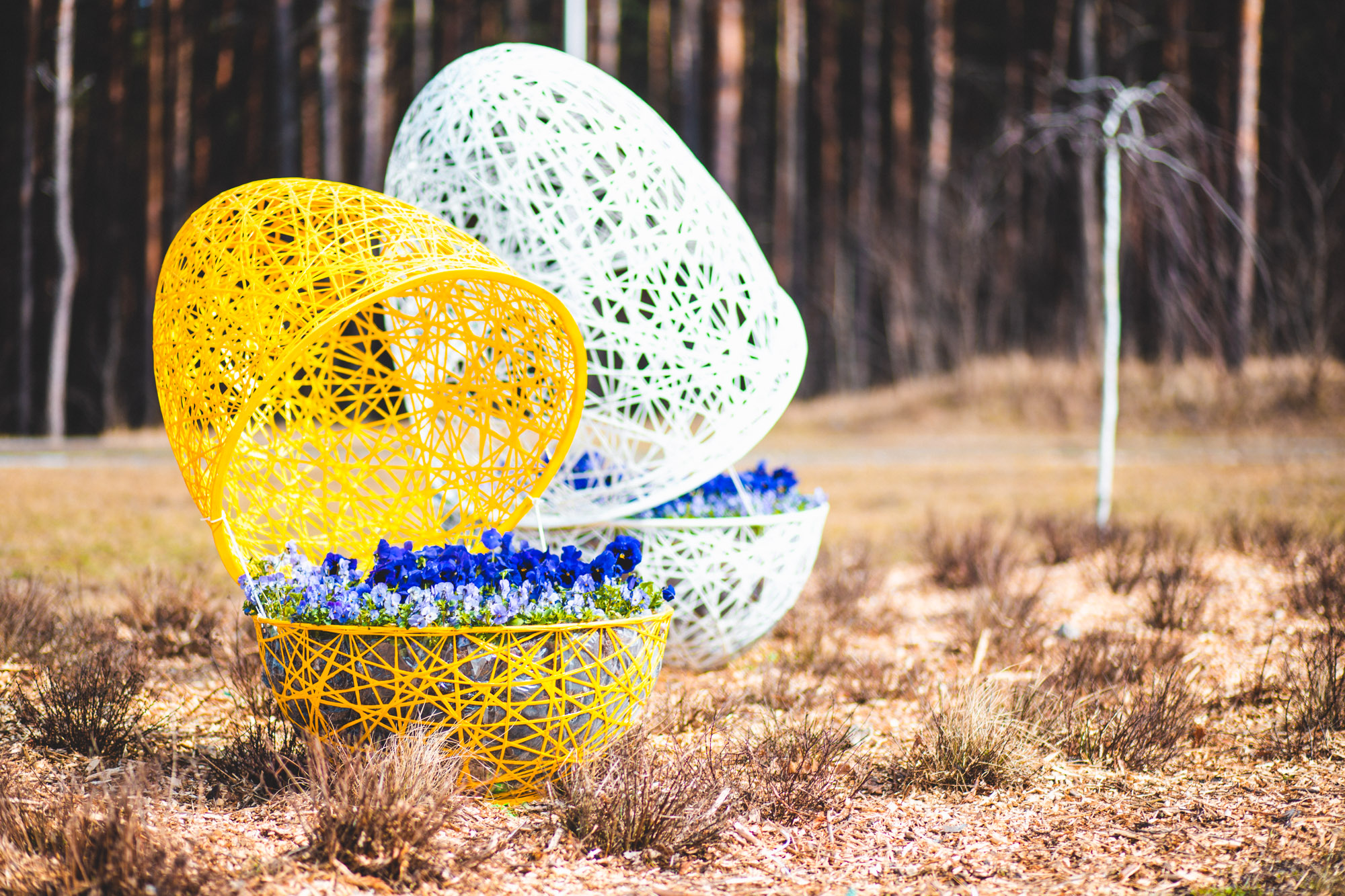 Plant your favorite flowers in the egg
The last step is the most enjoyable part – choosing the flowers and planting them in the previously prepared egg! Depending on the color and size of the egg, you can select a variety of flowers. A great idea can be the flowers, which will contrast with the surface of the egg, e.g., planting blue pansies in a white or yellow egg. Narcissus or tulips can also be successfully used for such a composition. You are only limited by your fantasy! Don't forget to share a picture of your projects with us; We'd love to share your work on our social media! Below, you can also see the instructions for planting flowers in eggs in the form of a short video!