Autumn has its rights – low temperatures and less sunlight mean that the flowering period is almost over. However, this does not mean that with the end of September, cities have to become gray and boring. Sometimes it is worth replacing summer plantings with autumn decorations, so that the surroundings continue to delight for the next months. In this text we will prove that the Flower Tower does not have to disappear at the end of summer.
Autumn decorations in the Flower Towers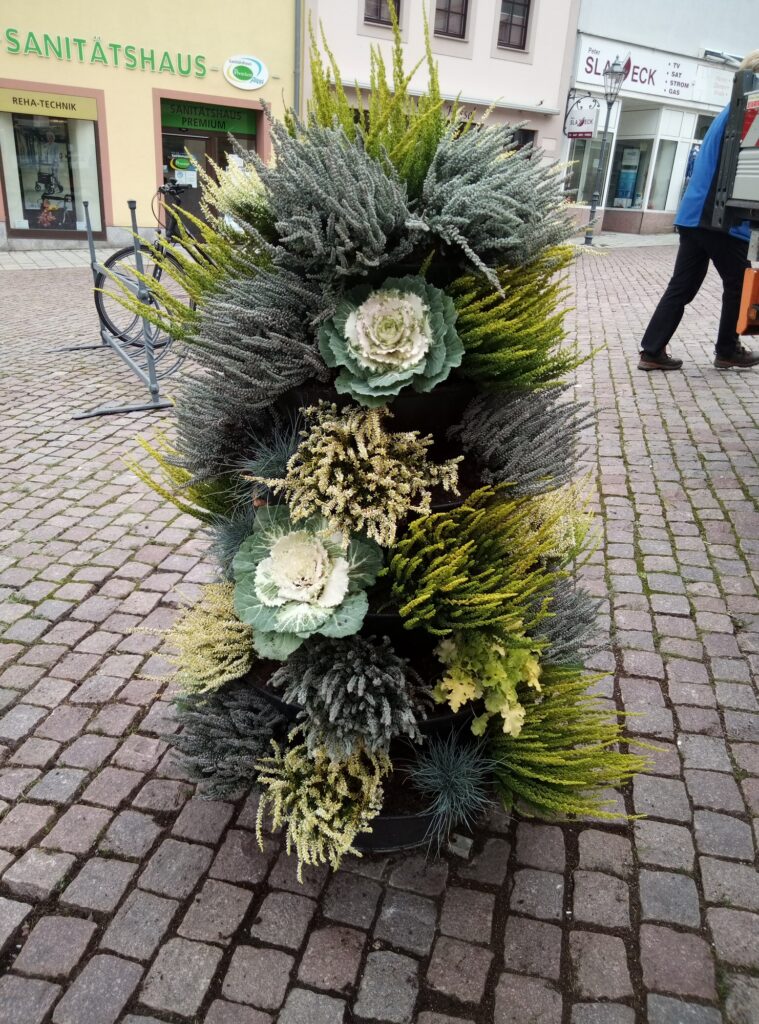 In spring and summer, the Flower Tower plays the first fiddle and does not leave the scene for many months. As August gives way to September and heavy rainfall as well as lower temperatures come, the most common plants in the Flower Towers (such as surfinia, geraniums and ipomea) begin to lose their freshness. The beginning of autumn is a good time for care and preventive treatments to protect them against basic diseases and pests. However, it should be remembered that the time of summer decorations is almost over.
Usually, the first half of October is the time when withered plants should be completely removed from the Flower Tower. Then you have to choose one of the following options:
dismantle and move the Flower Towers to the storage area,
decorate the Flower Towers with plants that are more durable and resistant to external conditions to create an autumn decoration,
leave the structure – it is made of durable galvanized steel, so it should remain unchanged even in the most capricious weather, but one has to take into account that without any decorations, the Flower Tower will not be able to fulfill its basic role.
Why is it best to choose the autumn arrangement of the Flower Tower?
First of all, we extend the decorative function of the product and avoid the situation when the Flower Tower remains empty while waiting for Christmas (see our post to find out how, with the help of a special cover, turn it into an original Christmas tree). Moreover, the Flower Tower left in its final place allows you to save time, money and work that would have to be spent on disassembly, transport and storage. Not to mention that in this case, the risk of losing a screw or other single element of the structure increases significantly.
Flower Towers – classic autumn decorations
Creating urban autumn decorations does not have to be difficult at all. The most important thing is to use plants that will adapt to the weather conditions at this time of the year. On first sight, your choice may seem limited, but that's not true. The Flower Towers can be planted with heathers or chrysanthemums – these two options already create a very wide range of colors, ranging from white, yellow, orange, through strong red, to rose and violet.
However, the choice does not end there, in addition to flowering plants, ornamental leaf species are also suitable. This category is dominated by ornamental cabbage, and right next to it there are plants that are both beautiful and durable: glechoma hederacea, gnaphalium, plectranthus glabratus or common ivy and periwinkle. Also, ornamental grasses are worth mentioning.
To gain a nice effect, it is enough to plant the Flower Tower with a selected plant in one or more colors. It is a proven method that guarantees satisfaction. Take a look at few autumn compositions, and you will find out that the simplest solutions are really good.
Choose diversity
By juxtaposing different colors of the same plant, you can create interesting urban decorations. Intertwined chrysanthemum seedlings in contrasting colors (red and white) change the Flower Tower into an autumn chessboard, two shades of decorative cabbage arranged in tiers or diagonally allow to create an aesthetic composition that looks good in any setting. However, in order to compose autumn decorations that will not be indifferent to anyone, you have to go a step further.
The appropriate selection of various colors and plants is a real art, but also a way to arrange a unique natural masterpiece. How can this be achieved? Take a look at the examples.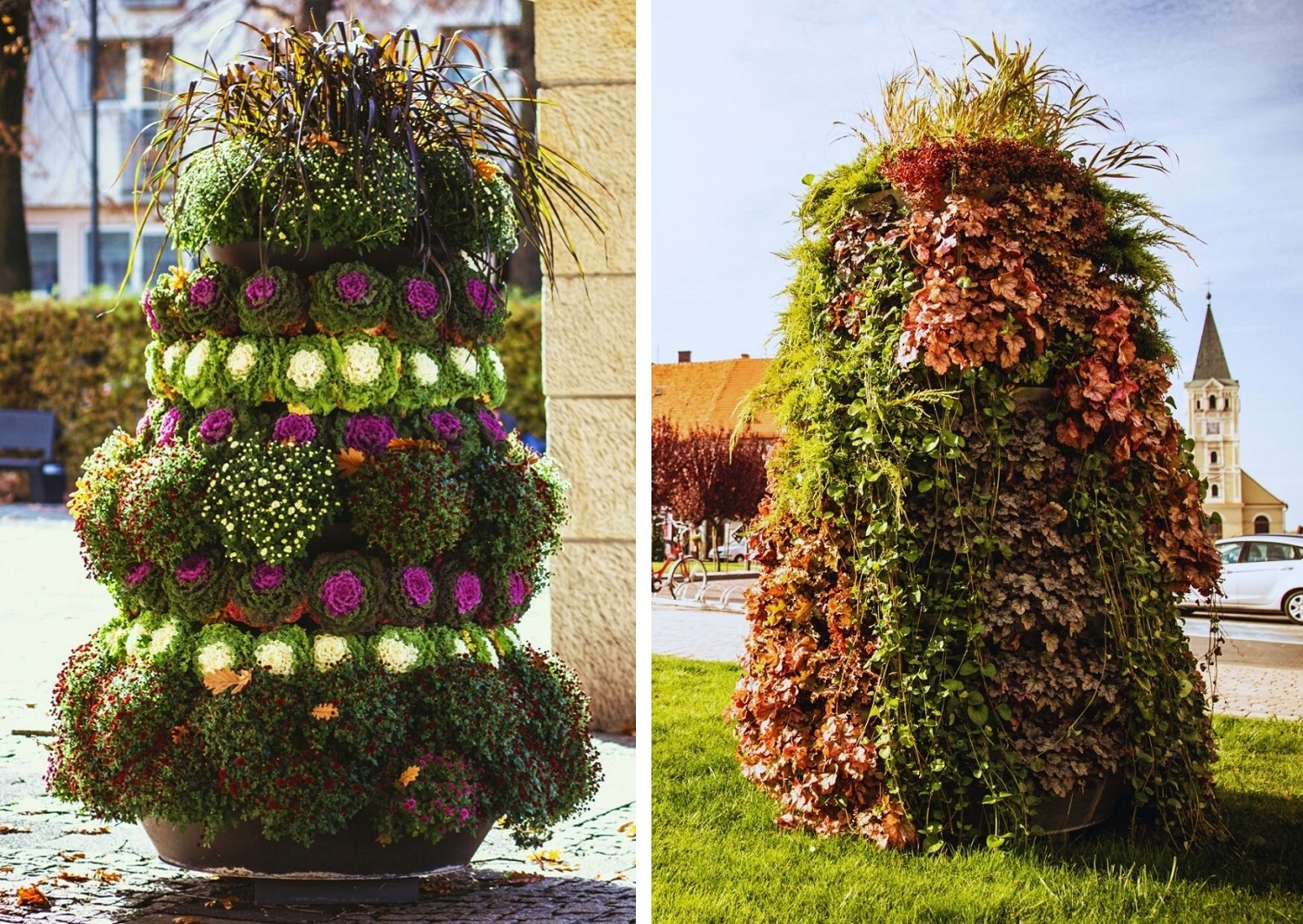 Decorative cabbages planted in stripes with chrysanthemums accompanied by a tuft of ornamental grass in a dark color. In this case, different sizes and colors of plants create clear layers that perfectly harmonize with each other. An unquestionable advantage of autumn decorations is the fact that it will look a bit different every day. Chrysanthemum buds will flourish, enriching the arrangement and adding color to it.
Skillfully selected plants are the basis for the appearance of the Flower Tower, but also make it fit into the surroundings. An example is the second arrangement. The combination of maroon cranberry leaves, green accents in the form of juniper and long hanging shoots of the periwinkle turned out to be a great idea. The whole thing corresponds very well with the crowns of trees that change color for autumn.
Autumn harvest
After the summer season, the Flower Towers can also be decorated in a slightly different way. A multi-story rack gives many possibilities for this. The autumn Flower Towers, in addition to the aforementioned plants, decorated with natural elements will look marvelous too. These can be pumpkins, sunflowers, dried rowan fruits, leaves, as well as twigs of fir, pine, spruce, thuja or juniper. Dressing up of the Flower Tower can become a special event for residents. We are convinced that not only the youngest would like to take part in it.
For the autumn decorations, the Austrian town of Moosburg, apart from flowers, used moss, mushroom figurines, dolls, and even seasonal vegetables and fruits: pumpkin, corn, grapes. Moosburg shows that the Flower Tower can also be an original symbol of the area, highlighting its most important advantages.
The Flower Tower in the garden decorated for autumn
While natural decorations in cities after the summer season are becoming more and more popular, autumn decorations in front of the house, on the terrace or in the garden are absolutely common. Most often you can find heather in boxes, pumpkins or bunches of leaves. Such decorations can be perfectly displayed on the entrance stairs. However, what to do to prevent the fall decorations from being obscured by garden furniture or other items on the terrace?
The solution to this problem is all kinds of racks. Although the Flower Tower is associated mainly with urban space, it can also become an interesting autumn garden decoration. A steel structure planted with decorative cabbage or heathers will turn into a unique, very original, plant column. The Flower Tower on the terrace looks spectacular, but for an even better effect, it is enough to combine it with lanterns or other decorations. Thanks to this, you will get a very nice corner that will make you want to spend every free moment in the fresh air.
Autumn in colors
The end of the sunny spring and summer period does not have to mean saying goodbye to flourishing urban compositions. The Flower Tower is perfect for a variety of autumn decorations, which will not only add charm to the space, but also fill the gap between summer and winter. Thanks to this, after this season, the Flower Towers will be ready for Christmas decor without any additional work. It is worth implementing some creative ideas to create a fabulous atmosphere even in a less unfavorable aura.