From Flowerbeds to Christmas Trees: Keeping Traditions Alive
Metamorphoses always fascinate us – that's why so many people love movies like 'Pretty Woman.' They are classics that still amaze and entertain us. But what would happen if we transferred this magic to our cities? What if summer decorations could become winter wonders?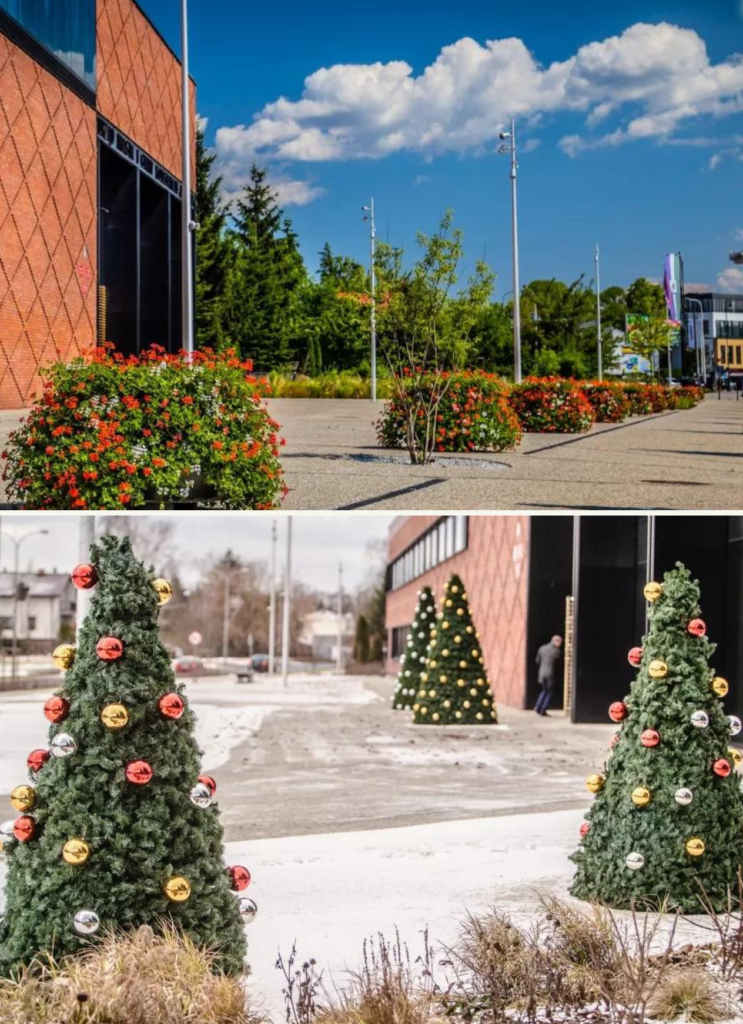 So, as the holiday season approaches, consider this creative solution to bring a sustainable and delightful holiday spirit to your city. Embrace the magic of Christmas and let your streets shine with the charm of flowerbed Christmas trees. We wish you a joyful and unforgettable holiday season!
Summer decorations, such as flower towers and floral cascades, have the potential to dazzle in winter as well. GIANTO planters can also be given a new life during the holiday season. In this article, we will show you exactly how to do it in your city!
Each of us dreams of a romantic stroll through city streets illuminated with holiday lights. Evening walks in such an environment become truly magical. But what if you've already purchased summer decorations and don't want to put them away? Here's the solution: Terra Christmas series overlays will create an incredible atmosphere, using what you already have!
How to transform flower towers into winter wonders? It's really simple! Just 'hide' them under a cover that mimics a Christmas tree – this provides many benefits at once!
Flower Towers and Christmas Trees
Urban Overlays
Prepare your flower towers for Christmas!
Step 1: Choose the size OVERLAY FOR STRUCTURE compatible with Terra models TRADITIONAL CHRISTMAS TREE without the possibility to cover the structure TREE SIZE height from 2m to 6.5m
Step 2: Select the color of needles RED associated with the magic of the holidays GREEN evoking the natural color of needles WHITE reminiscent of the whiteness of snow
Step 3: Decide on extras LED LIGHT warm or cool white DECORATIONS traditional or illuminated
Step 4: Contact us
In the summer, flower towers adorn cities, but as the warm days come to an end, their charm begins to fade. However, there's nothing stopping them from dazzling on city squares during the winter as well. By using Terra Christmas overlays, we can bring the holiday spirit closer to our residents and decorate the flower towers in new ways.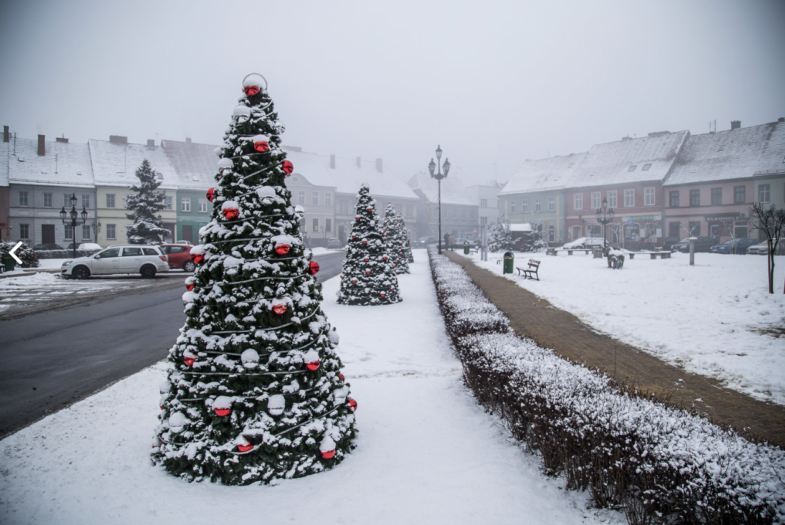 Why choose Terra Christmas?
HIGH DURABILITY – Thanks to the powder-coated finish, the structure is resistant to low temperatures and moisture.
STRONG AND STABLE – Ground anchoring ensures stability and protects against theft.
EASY INSTALLATION – Modular construction makes assembly and storing the Christmas tree simple.
HIGHEST QUALITY – The highest quality materials used in the tree's production guarantee its long lifespan.
Transforming summer decorations into winter wonders is the perfect way to delight residents and tourists. You don't have to choose standard solutions – creating unique compositions will make your city stand out during the holidays!
Flower Pots and Terra Christmas Ball
Have you ever wondered how to transform your hanging flower pots into holiday wonders? It's possible with Christmas balls! Terra Christmas Balls are a fantastic way to breathe new life into your summer decorations during the winter. The branches adorning these balls come in three charming colors: traditional green, intense red, and frosty white. It's your choice which one perfectly fits the ambiance of your city.
But that's not all! Once you've chosen the color, you can decide if you want to add additional ornaments. Traditional Christmas baubles go perfectly with the tree-mimicking ball. One ball with a diameter of 700 mm can hold approximately 30 ornaments, which is the ideal quantity to create a beautiful and harmonious composition. Choose colors that reflect your city's character or draw inspiration from your surroundings.
To make your Christmas ball shine even after dark, select Christmas tree lights in warm or cool hues. Holiday illuminations are some of the most popular urban decorations that attract the attention of both residents and tourists. The luminous composition will brighten up the evenings and inspire romantic strolls. Additionally, lantern decorations with twinkling lights look incredibly stunning in photographs.
The holiday spheres from TerraChristmas are not only a beautiful decoration but also a robust construction. They are designed for planters for Terra W600 lanterns, as well as Jiflor 600 and 800 from Atech. Their mounting system is not only durable but also versatile, allowing them to be adapted to various models of street lamps. Thanks to this, the decorations are securely held throughout the Christmas season.
Winter (not only) in Poland can be fickle with rain, snow, and frost. It's a challenging period for many urban decorations, but not for TerraChristmas holiday spheres. They are made of galvanized steel, which easily copes with low temperatures and moisture. The densely spread Christmas garlands inside the sphere protect the planters from harsh weather conditions. It's not just a decoration but also a practical cover that allows for storing decorations without the need for disassembly or storage.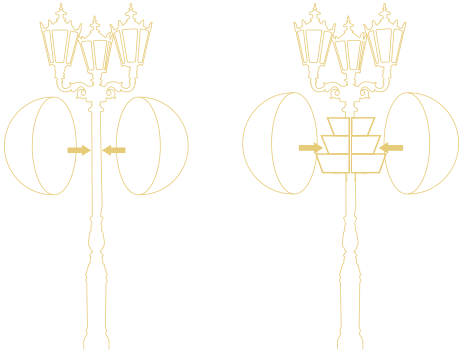 Terra Christmas Ball Lamp Covers:
Christmas balls are an excellent solution for creating a magical Christmas atmosphere in urban spaces.
Available in three different sizes (0.5 m, 0.75 m, 1 m), they fit various models of street lamps and lanterns, ensuring versatility in their application.
Choose the color of the foliage that best captures the holiday spirit: red, green, or white.
Customize the ambiance by selecting warm or cool LED lighting and traditional or glowing decorations.
Contact us, and our experts will help you tailor the Christmas balls to your needs by choosing the appropriate sizes, colors, and accessories.
Terra Christmas Ball guarantees the creation of a magical and atmospheric environment in your city during the Christmas season. Importantly, you don't necessarily need to mount the Christmas ball on a planter. In our offering, you will also find balls that don't require such a base. Why? For us, what matters is that everyone can find the perfect solution!
Gianto Planters – Summer and Winter
To wrap up our journey through urban Christmas decorations, let's now explore how to transform an ordinary XXL planter into a magical Christmas ornament. This task doesn't require any magic or significant investments, but the holiday spirit undoubtedly adds a special charm to the process. Ordinary planters that adorn our streets in the summer can quickly turn into Christmas trees, creating an incredible atmosphere in our city.
A planter that transforms into a Christmas tree in just a few minutes!
While traditional Christmas trees play a central role, have you ever wondered about a creative, environmentally friendly, and cost-effective way to add magic to urban landscapes? Here's an idea – turning planters into Christmas trees in just a few minutes. Thanks to these covers, this transformation is not only simple but also incredibly fast.
With These Solutions, You'll Showcase Unlimited Creativity!
Holiday trends may change from year to year, but the classic green Christmas tree adorned with colorful lights always remains a favorite decoration, especially in public spaces. However, there are no limitations when it comes to adding a modern touch to this classic composition. Consider mood lighting, contrasting ornaments, and even "dressing up" planters mounted on lampposts. The abundance of choices ensures that the city's decorations perfectly complement the surroundings, making each holiday season a unique and captivating experience.