Contrary to appearances, public space does not have to turn gray when surfinia or pelargonium start to fade away. Heather, chrysanthemum, echinacea, ornamental grasses … There are really many ideas for fall planters!
Fall planters with heather
Heather plants are the most popular autumn flowers. They are usually purple, but also pink or even red. They can withstand colder weather conditions and require practically no maintenance – therefore they are perfect for autumn compositions. Young heather seedlings can be easily planted in the dedicated pots. Creating decorations takes only a few moments. It is enough to transplant the plant from the container in which it grew first and immediately enjoy the beautiful visual effect. Heather looks great in the company of ornamental grasses, for example foxtail fountain grass or pampas grass.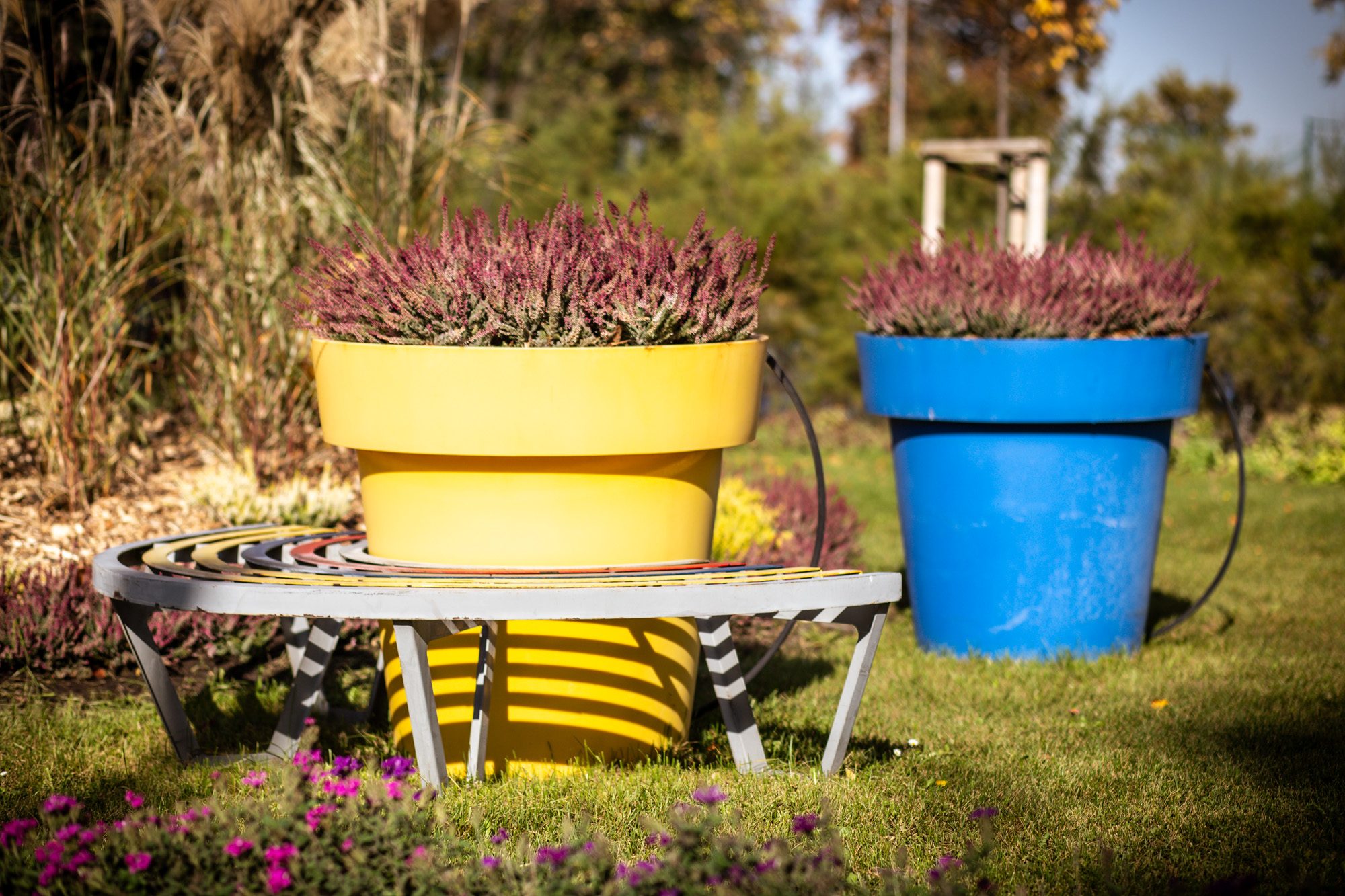 Chrysanthemum – queen of the autumn
Chrysanthemum is gradually moving away from the stereotype of a plant reserved only for the autumn decoration of necropolises. It is worth taking advantage of its values – lush flowering, beautiful colors and great resistance to changeable weather conditions. Chrysanthemum is one of the autumn blooming plants, which makes it a perfect colorful decoration for public spaces. Plants planted in large pots, boxes or the standing Flower Towers will create a beautiful autumn decoration. They look great on their own, but also with ornamental grasses, heathers or ornamental cabbage.
One of the effective ideas for fall planters, which will work well in the city space, but also in the garden, with the use of pots and chrysanthemums, is to create a decorative "mound". Plants planted on a low hill with overturned pots give a very interesting result. Additionally, if you combine varieties of chrysanthemums in autumn colors (yellow, orange, maroon), the composition will not be overlooked for sure.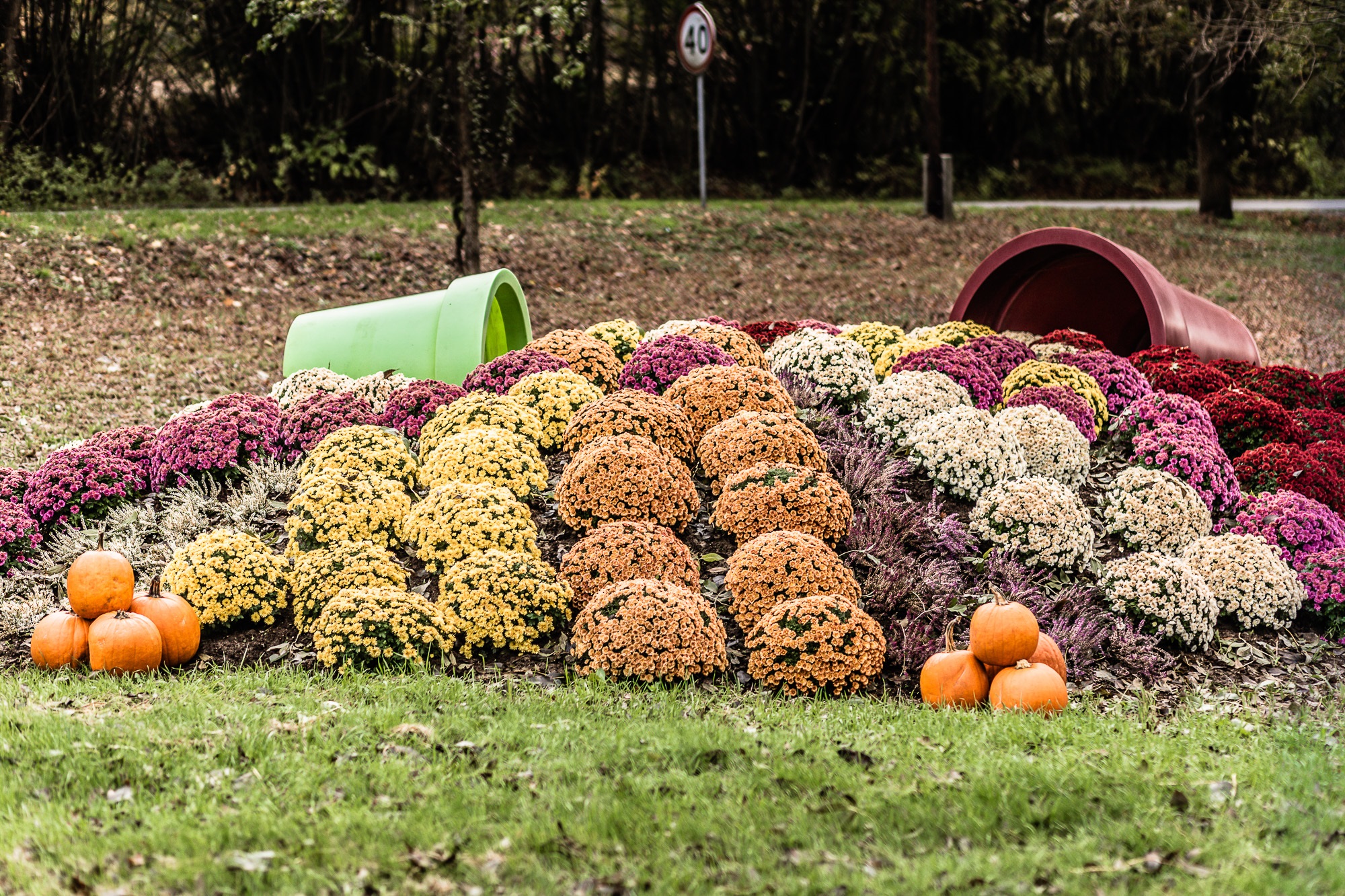 Autumn arrangements with ornametal cabbage
The urban space delights with floral compositions not only in summer, but also in autumn. From April to October, the Flower Towers and large pots can charm with impressive, lush seasonal plants, and at the beginning of autumn they are filled with ornamental cabbage and grasses. It suffices to look at the photos to see that it is a good idea. Also, such arrangement should be considered to appear in your surroundings too.
Fall planters with pumpkins
The arrangement of cities after summer should not be limited only to flowers and plants when creating autumn decorations. An interesting and still rare idea are pumpkins, which are more and more often used in compositions due to the growing popularity of Halloween in Europe. This small element, which is plentiful in these months, becomes a great addition to autumn arrangements.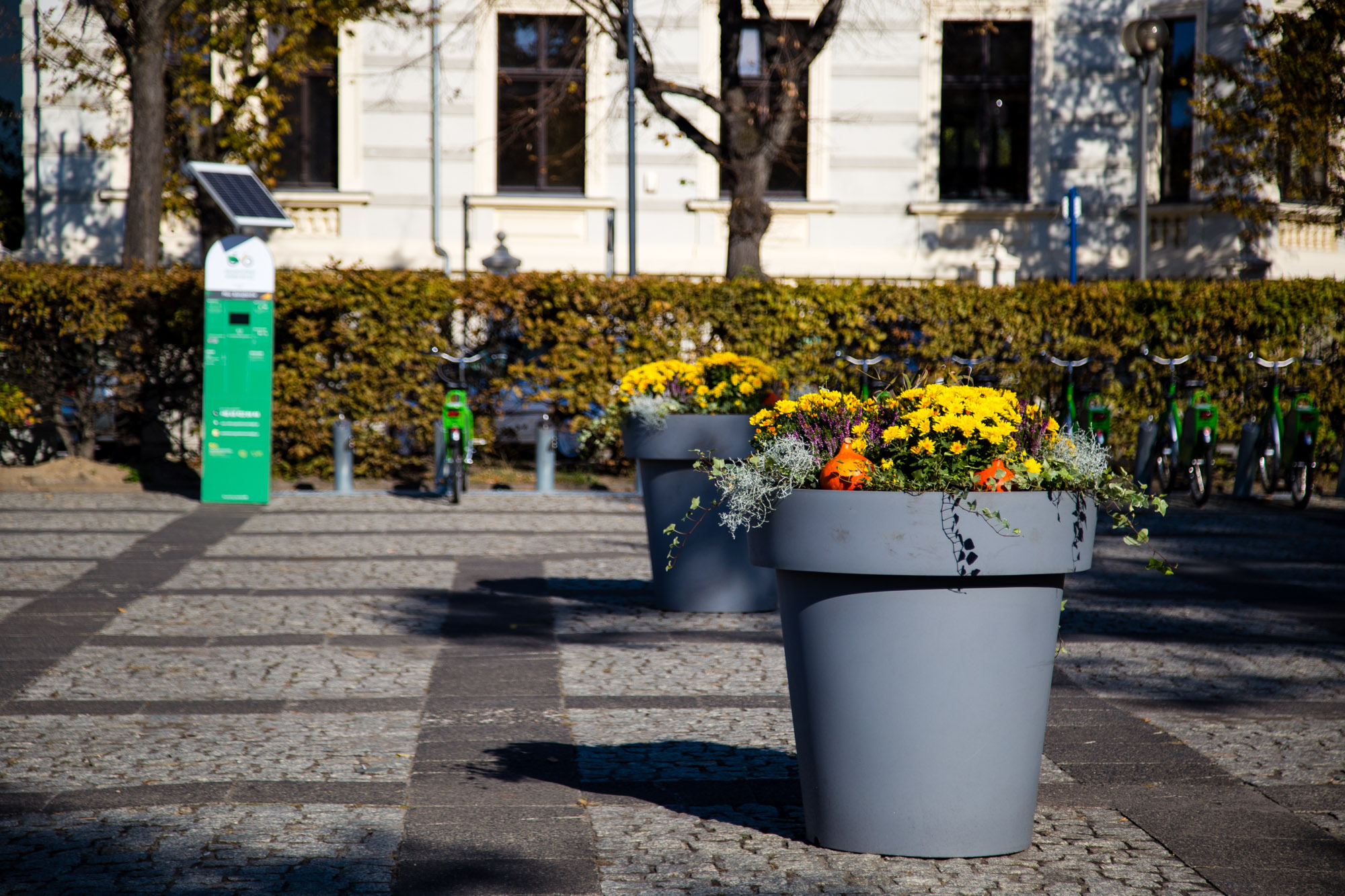 The second idea is to cover the ground with chestnuts. First of all, fall planters will look unique and charming. Secondly, you create a litter that will help to keep the substrate moist, protecting it from frost.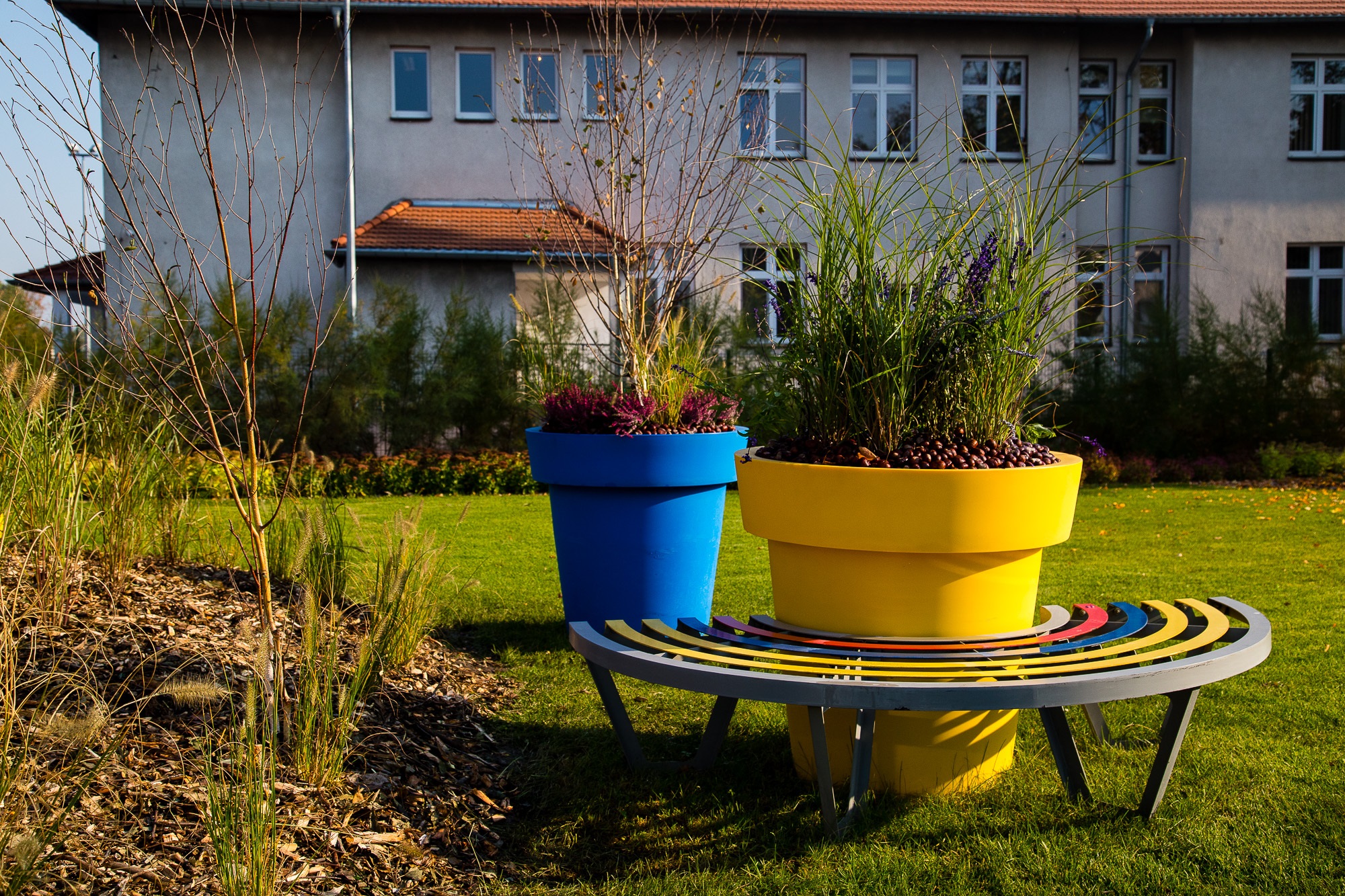 Autumn arrangements – which colors to choose?
Autumn does not differ from summer in the possibilities of arranging flower pots. There are many plant species which bloom in September and the following months. Therefore, you can still count on the power of impressions and colors. In public space, the most common ones are: heather, chrysanthemums, ornamental cabbage, ornamental grasses – they are chosen primarily for their durability. However, the limited selection of plants does not necessarily mean less possibilities, because the above-mentioned species provide many colors of flowers, which if combined with each other, give various effects. Here are some of our ideas for fall planters:
golden autumn – flowers in warm colors, e.g. yellow, orange, red, with the addition of bright green or brown elements. Such a combination will certainly chase away the ubiquitous gray,
chic purples – autumn is the time of decorative cabbage and heather, which have a beautiful purple color. To add elegance to the composition, it is worth combining them with white,
all shades of green – this is not the first option that comes to mind about the upcoming autumn, but such compositions are pretty impressive. Especially together with the more popular warm colors.
Autumn decorations in durable pots
Planting autumn pots is only half of the success in decorating the city. As important as their content are the planters themselves, which must be durable enough to withstand unfavorable weather conditions. Among the materials that are able to guarantee that the decoration will not be marred by cracks or chipping, the best are: polyethylene, architectural concrete, corten steel. Increasingly, one can find pots made of them on the streets in European cities, not only in autumn, but also in winter.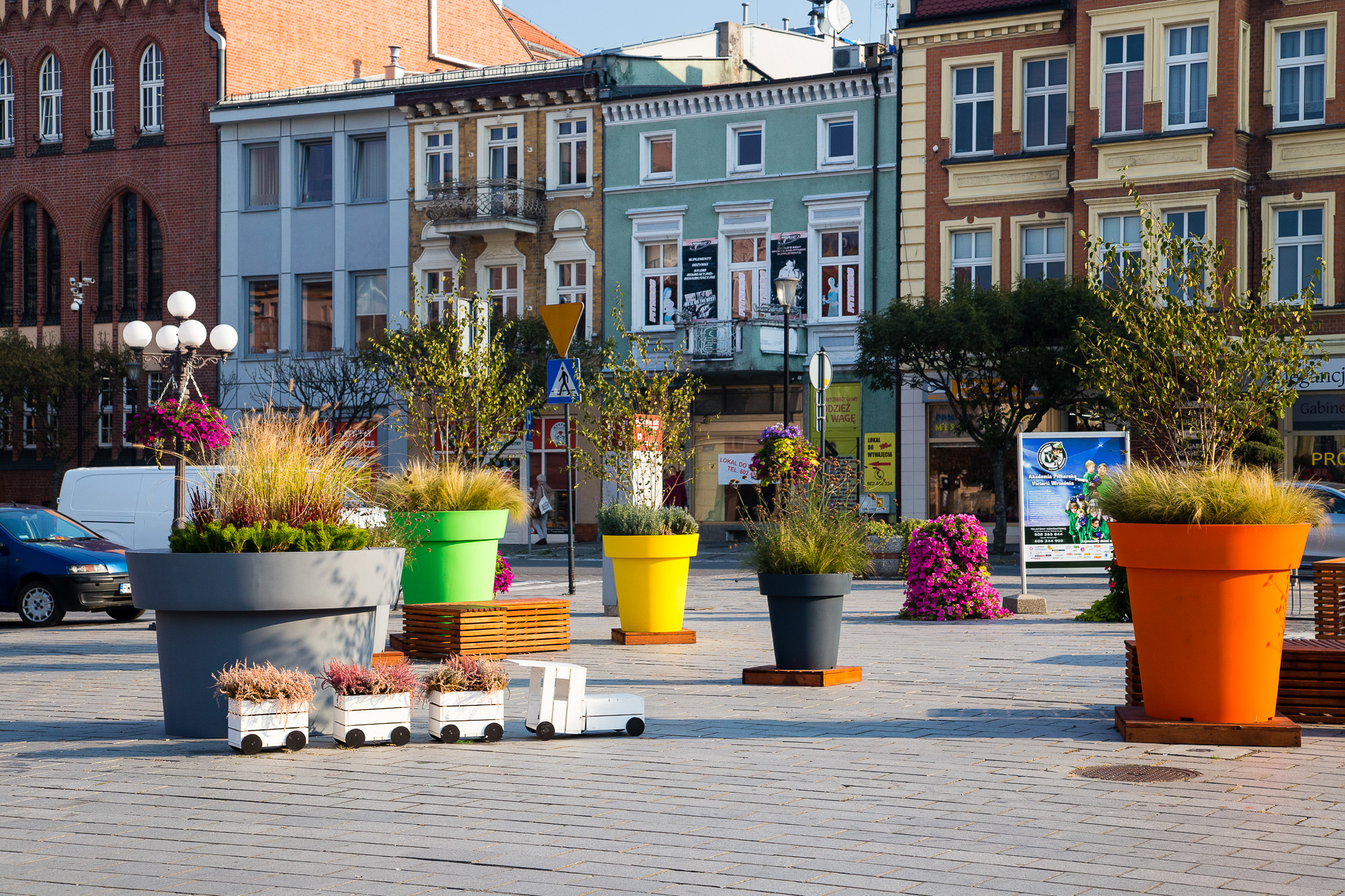 It is worth remembering that pots made of low-quality plastic react badly to temperature fluctuations and rainfall – do not entrust them with seasonal compositions, because even the best autumn flowers will not look good in a damaged container.
Let garden, terrace and city pots be filled with autumn flowers
Autumn days always come too fast bringing cold, blush and gray. Instead of giving to the melancholic mood, it is worth coloring every space with flowers. Therefore, whether garden, terrace or urban pots, they should be filled with autumn arrangements already at the end of September.