Spring is coming, and thus, we are slowly preparing to plant our gardens, yards and urban spaces. If you have already purchased unique flower pots for this season, all you need to do now is choose the plants you will plant in them. Large pots are a great base for turning the space around you green, as you can plant various species of plants in them. These include flowers, perennials, shrubs, and even trees! If you are looking for an interesting idea to implement such a flower arrangement, check out our proven ideas below and get inspired by the wonderful colors!
Flowers for large pots
Amazing colors of blooming flowers can brighten up any space. Even if you live in a big city full of concrete, you can put a large pot on your terrace and enjoy greenery all year round. It is worth investing in such a solution, because plants positively affect not only our physical health, but also our mood. If you dream of a unique plant and shrub composition, choose an XXL pot. In such a container, you can plant marvelous species of flowers without worrying that they will not have enough soil or water!
Below you will find our favorite flowers that will work great in various seasons. We divided them into annuals, bulbs, and perennials.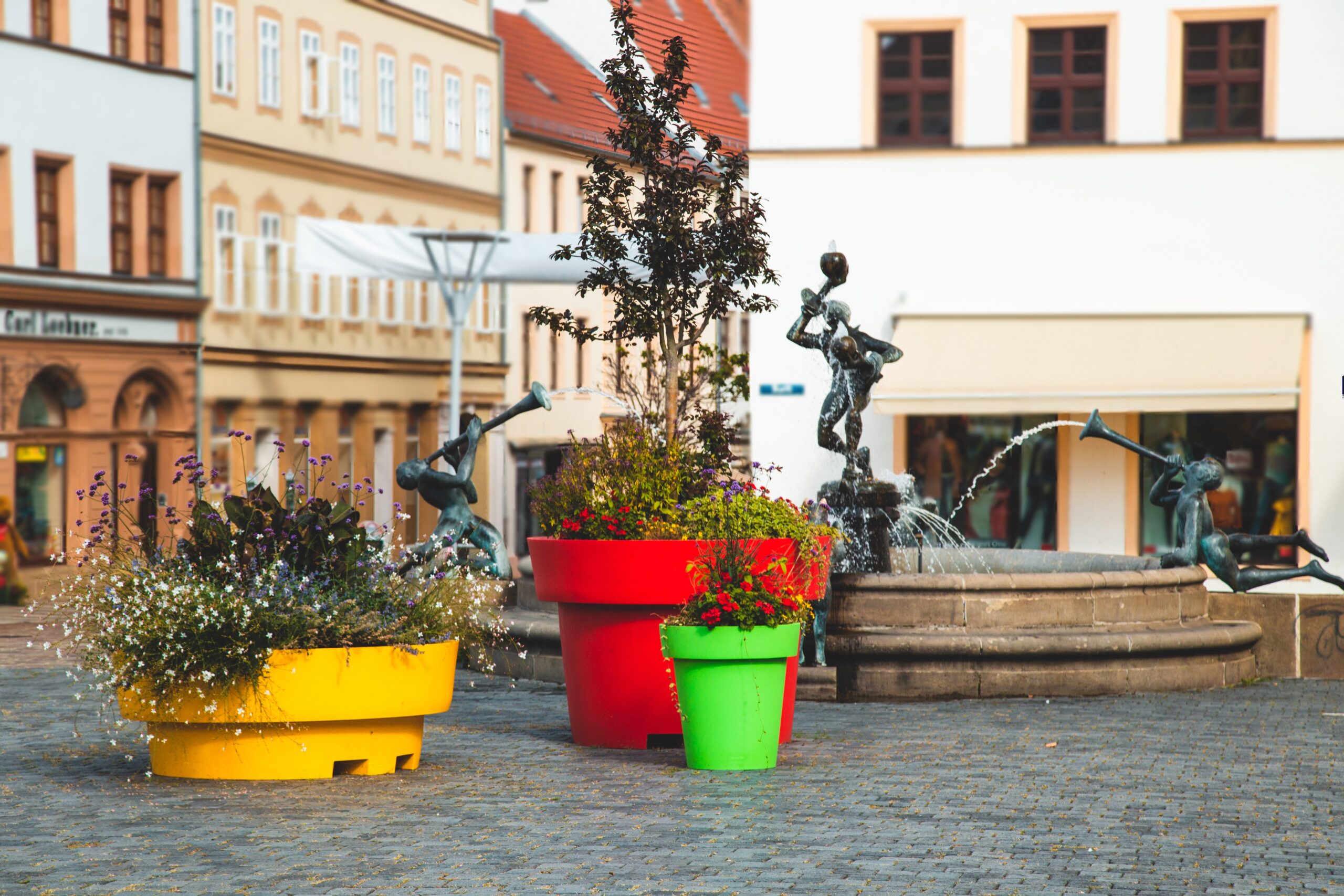 Annual plants
Annual plants such as petunias, begonias, and hydrangeas must be planted at the right time of the year. Such flowers are distinguished by the fact that they bloom beautifully, decorating urban spaces. When deciding to plant annual plants in large pots, one must take into account that in the next season it will be necessary to repeat this procedure. Unfortunately, the flowers below do not last long — but that's their nature! Although such plantings have to be repeated every year, the spectacular effect one gets is definitely worth it.
Petunia
Ipomea light/dark
Tuberous begonia
Lantana
Dichondra
Solanum
Mandevilla
Coleus plectrantus
Hydrangea
Chrysanthemum
Heather
Bulb plants
Who doesn't like the sight of tulips or crocuses heralding the coming spring? Bulbs are distinguished by their beautiful fragrance and colors, so it's no wonder that they are one of the most popular flowers. In most cases, these are plants for one season, but sometimes, if we properly protect the bulbs, we can grow beautiful flowers from them the next year. Below you will find a list of our favorite bulbs used for planting in large pots:
Tulip
Hyacinth
Narcissus
Crocus
Decorative garlic
Muscari
Scilla
Kaiser's crown
Lilies
Gladiolus
Canna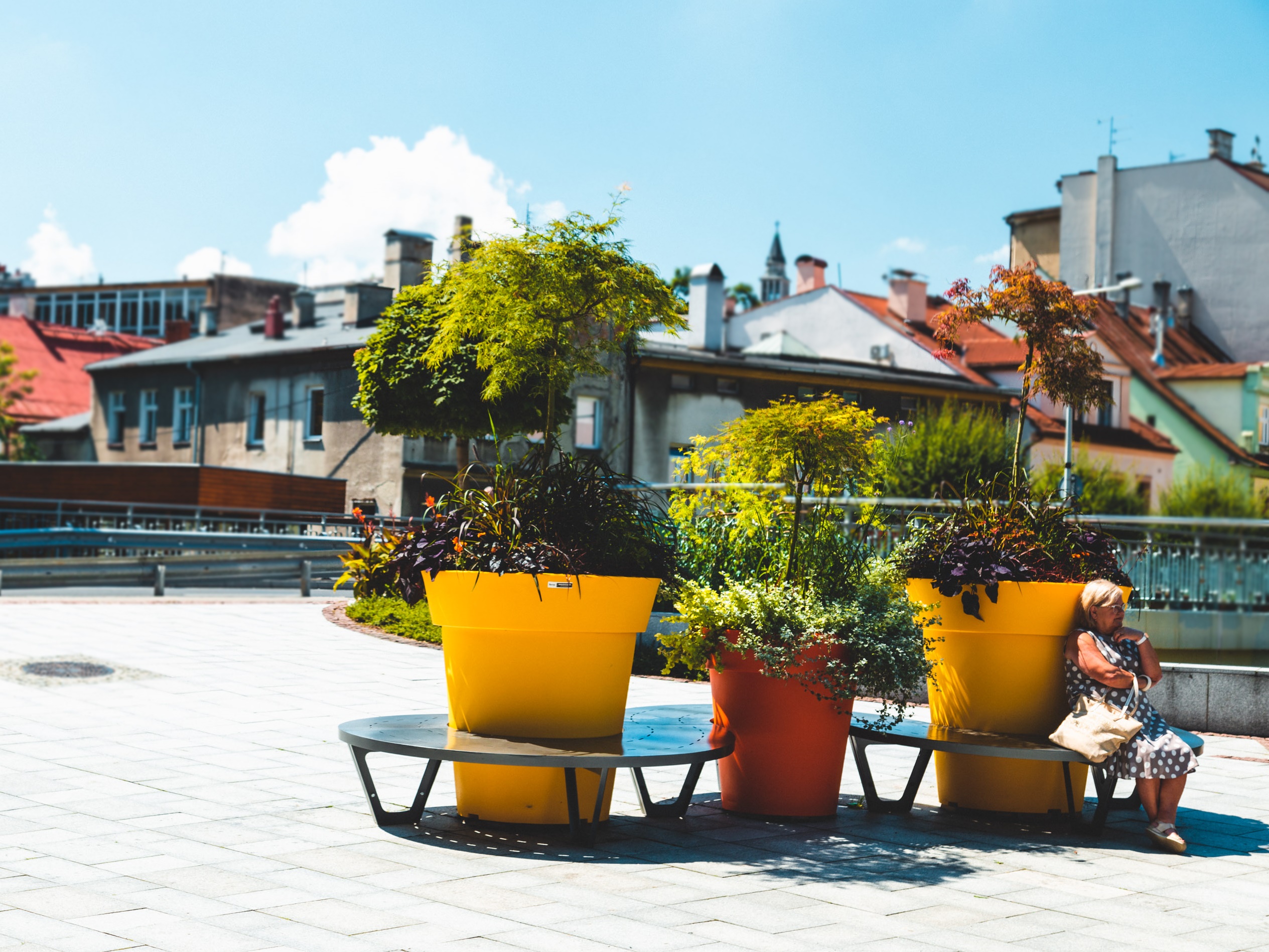 Perennials
Perennials are plants that grow for many years. In colloquial terms, they are flowers of all seasons; in fact, the most common perennials are ornamental plants that are supposed to last more than one season. Among the perennials, one can find a lot of unique plants, perfect for flowering urban spaces or creating amazing compositions in large pots on the terrace. Some lovely perennials worth recommending are:
Heuchera
Verbena
Coleus
Aster
Ground-ivy
Surfinia
Pelargonium
Plantain lilies
Garden canna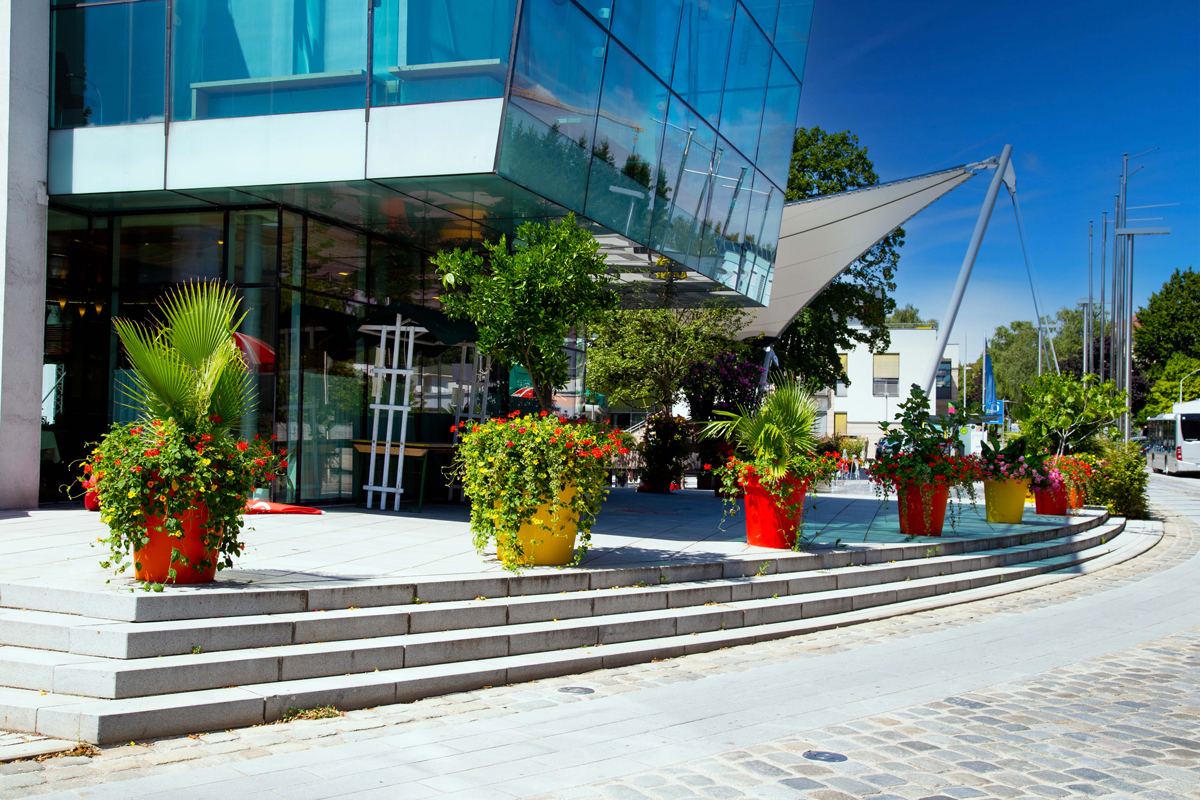 Trees for pots outside
There is a lot of space around you where there are no trees? Concrete courtyards and squares do not have to be gray at all—just fill them with colorful pots in XXL size. In such large pots, you can easily plant bigger trees that will give some little shade on summer afternoons and bring greenery to the city center. An interesting new trend is planting palm trees in XXL pots—such a tree can conjure up an exotic atmosphere even in a cool Polish town!
Mountain pine
Palmate maple
Common hornbeam
Black locust
Paper birch
Southern catalpa
Thuja
Yew
Spruce
Palm trees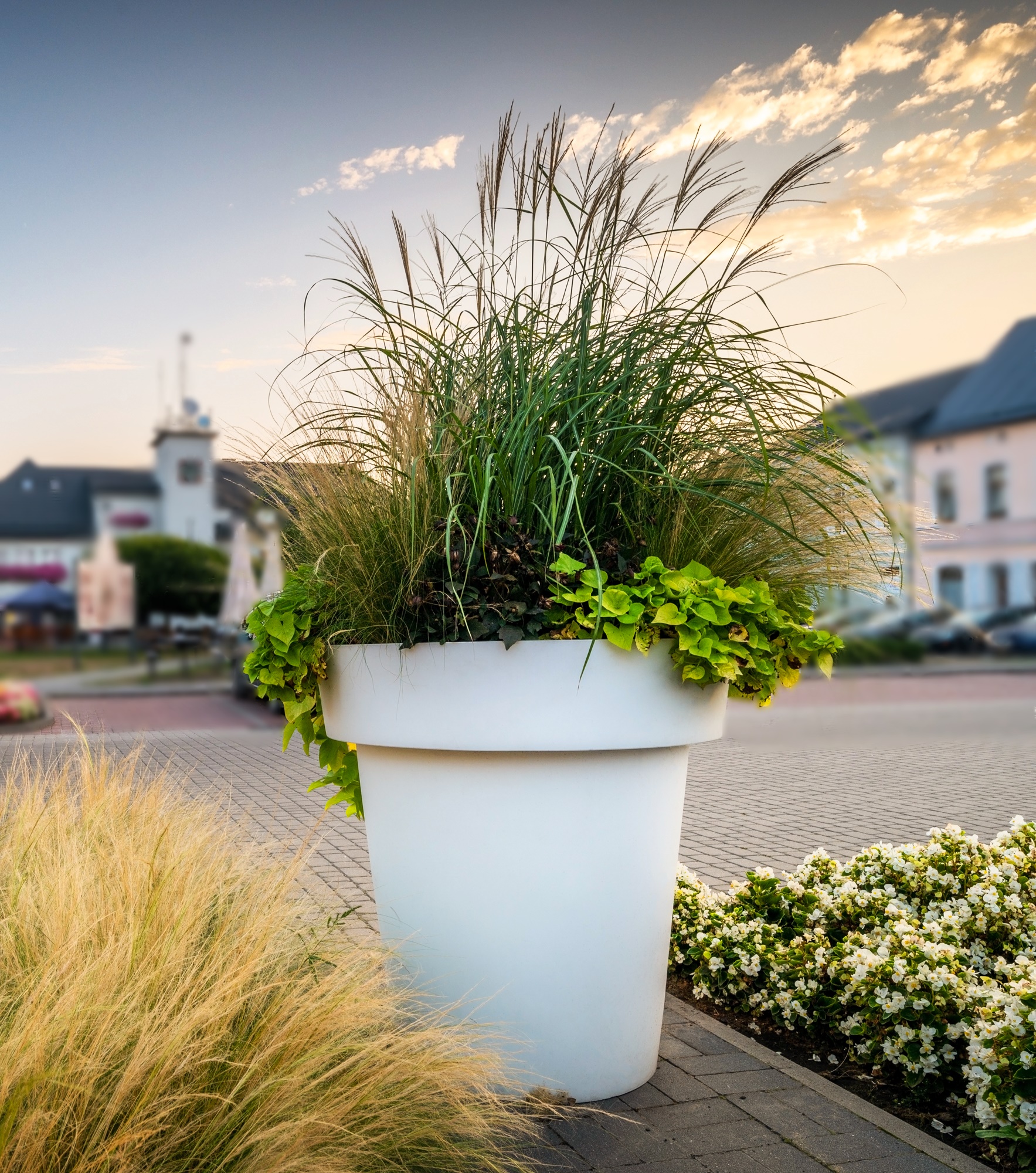 Ornamental grasses in pots
 It turns out that planting flowers is not the only way to bring greenery to the city. Ornamental grasses are also great for this role. They look marvellous in XXL pots, both in a composition with other plants and alone. It is worth delving into the subject of ornamental grasses and looking for varieties that will be most compatible with our sense of aesthetics. The Amur silvergrass or Chinese pennisetum will look great in pots with neutral, earthy colors. Such natural shades will ensure a friendly atmosphere in every city. Below, you can find a list of our favorite ornamental grasses for planting in XXL pots:
Lilyturf
Japanese sedge
Chinese pennisetum
Chinese pennisetum
Cogongrass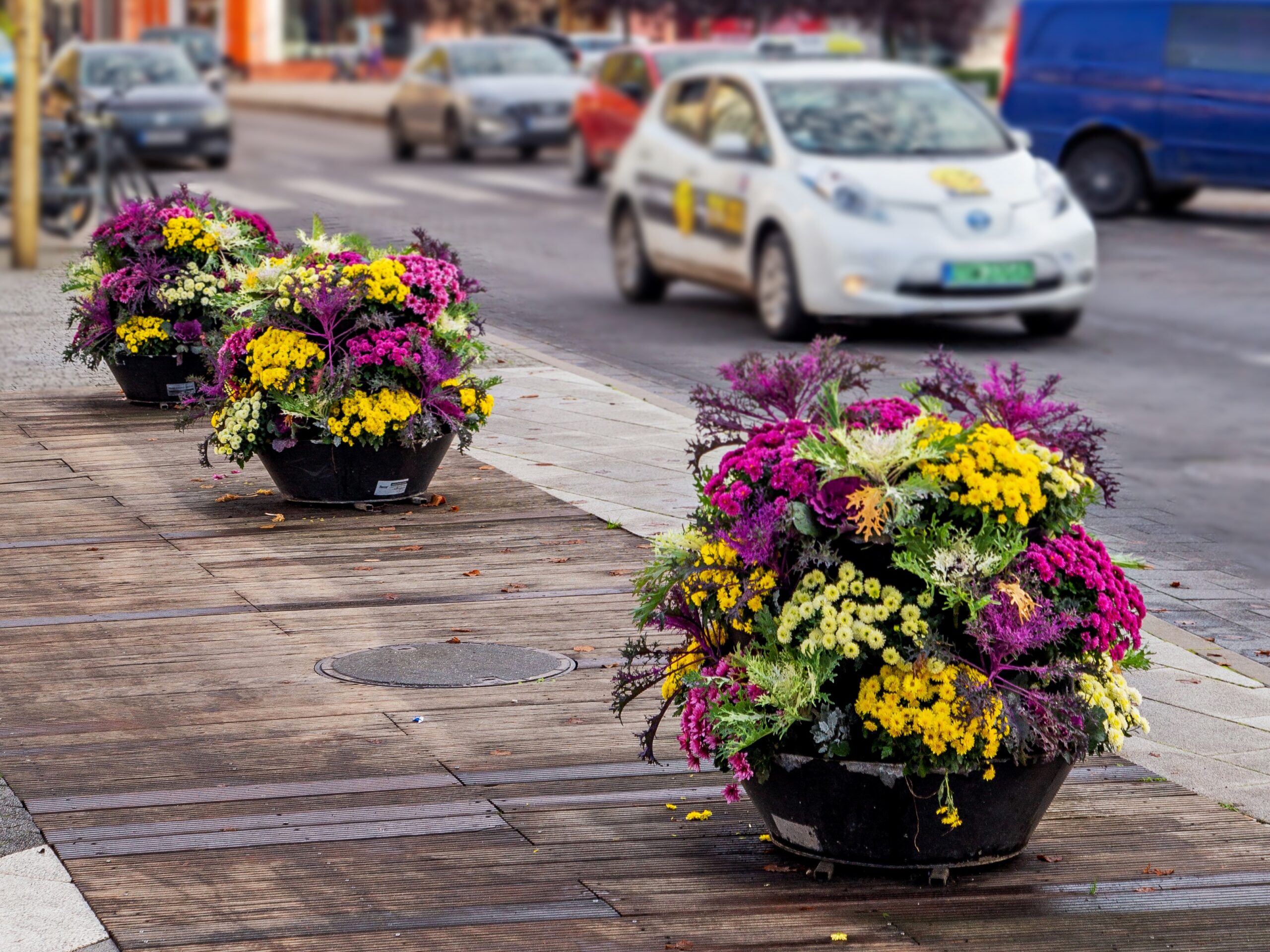 Compositions made of ornamental cabbage
Are you looking for an original idea to decorate flower pots? Decorative cabbage will work perfectly in this role, and you can compose them with ornamental grasses or flowers. However, if you want to prepare decorative plantings for autumn, the composition of ornamental cabbage will be a hit. You will find a variety of colors and cabbage types, which in combination will make an even greater impression than classic spring flowers. In addition, cabbage does not require demanding care, making it ideal for urban spaces or on the terraces of restaurants and hotels.
Compositions of plants in large pots
Are you wondering what plant compositions are best suited to large pots? It's obvious that sometimes it's better to see something with your own eyes, instead of using only your own imagination! That is why we have prepared for you proven combinations of plants that were used in various Terra Group projects. With each photo of the composition you will find information about the conditions needed for the plant, flowering time and specialized Latin names of specific varieties.