From small, only thirty centimeters, to two-meter high giants. Big Easter Eggs impress not only with their scale, but also with their possibilities: with them, Easter will be an opportunity to promote local monuments, a chance to integrate residents, and above all: a moment when beautiful decorations enter the common surroundings!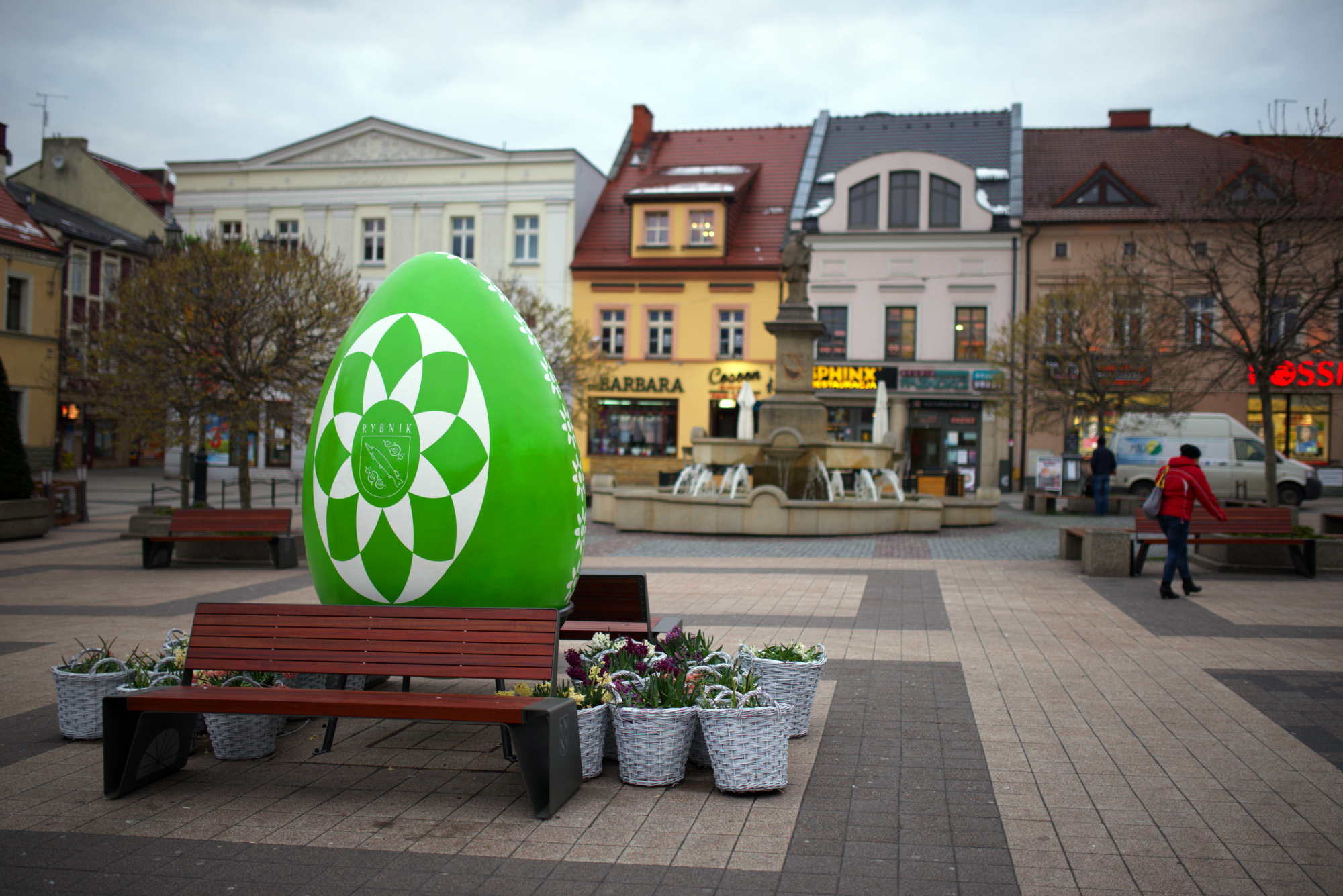 Urban decorations not only for Christmas
The trend of decorating cities for Christmas is more and more visible in Polish and European cities. Many residents and tourists, tempted by interesting light illuminations and Christmas installations, go for a walk and take photos. Nothing prevents colorful urban decorations from appearing on streets and in squares also in spring. It is the huge Easter Eggs on special decorative frames that become the most interesting element of space when winter slowly fades into oblivion. Their fabulous colors effectively add some new glow to the neighborhood, and remind residents of the city: Easter is just around the corner!
Why do Big Easter Eggs have a chance to become a hit among Easter decorations?
The most important advantage of large Easter Eggs is enormity of decorative possibilities. Easter Eggs by TerraEaster come in smaller sizes, from 30 centimeters  high to 75 centimeters, but also for special needs, our company offers really gigantic ones. The largest are up to 150 centimeters  high. The choice is truly wide and thanks to this, everyone can find large Easter Eggs perfectly suited to their needs. The smaller ones can be arranged in a pyramid and placed in a Gianto pot or hung on a lamp. Also, it can become a great solution for an Easter installation in shopping malls or hotels. Over one meter high decorative Eggs will be perfect on a promenade, square or roundabout. They are so large that even without additional decorations cannot be overlooked. However, the Eggs look even better in compositions.
Big Easter Eggs for special tasks
Easter Eggs from the TerraEaster collection are made of fiberglass, a well-known material used for creating decorations dedicated to urban spaces. Decorations made of it work well as Christmas decorations exposed to snow and frost, so they can withstand capricious spring conditions too. Fiberglass is valued for its great strength and, at the same time, lightness, which makes Easter city decorations easy to transport and assemble, as well as disassemble and store. They are extremely easy to care for, and due to the varnished surface, dust does not settle on them, and the sun does not destroy their vivid colors. All features of this material makes it a proven solution for years!
Huge Easter Eggs create open art galleries
A tradition of decorating eggs for Easter has been present for ages, visit our post on the natural coloring of them. Home Easter symbols are usually colorful and patterned, so why should it be otherwise in case of urban decorations. Big Easter Eggs can have a uniform, bright color, patterns, landscapes, graphics, basically anything you could imagine. Thanks to high-quality stickers, the city emblem, wishes for residents or even Easter Bunny can appear on the surface of the Easter Egg in a quick and durable way. You can choose a design from a ready template or propose your own, just contact the Terra Group team, competent employees will advise and prepare a visualization of decorations for you.
Big Easter Eggs are a great base for creative residents and local artists to show their skills. The smooth surface of decorative Easter Eggs is a perfect canvas for the youngest, who will be happy to join the action of  decorating the space together. However, there are more ideas: the city symbol of Easter can become a tool for promoting local artists, and squares can transform into open art galleries – just like in Kórnik in Wielkopolskie voivodship.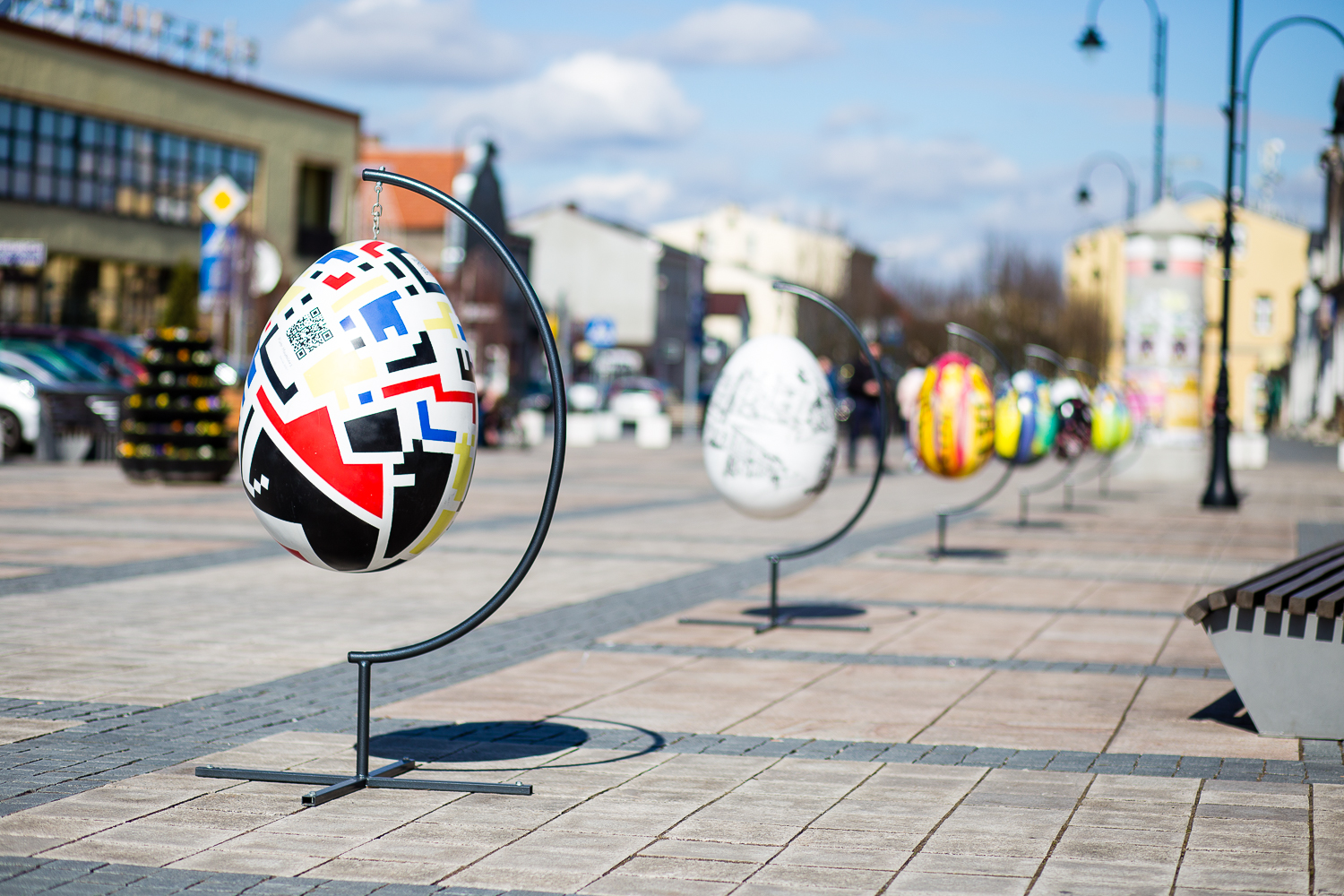 Big Easter Egg as a real work of art
For cities that would like to bring the beauty of the area closer to their inhabitants or simply boast among the guests, the project of decorating XXL Easter Eggs with coats of arms, images of local monuments and characteristic places appeared. The idea was perfectly used in Ząbkowice Śląskie. The surface of the Eggs was decorated with images of the Frankenstein monster himself, according to the legend associated with the city.
The way to transfer images to the Egg surface is presented in the following video:
On a lamp, on a stand, in a basket or flowerpot – a way to mount large Easter Eggs
Individual ornament of the large Easter Eggs make it easy to obtain a one-of-a-kind Easter decoration, but there are more possibilities of modifying the design. Specially designed racks allow the Eggs to stand, hang or be suspended. It gives you almost endless arrangement options. We will not delve into the technical description of the assembly, just look at these realizations.
Decorative Easter Eggs – a great way to decorate your space
Decorative Easter Eggs are a decoration that catches the eye of everyone, weather it is an urban decoration, a decoration in hotel, restaurant or shopping mall. Due to the possibility of complete personalization, it will certainly fit perfectly into space. You will surely find Big Easter Eggs in your neighborhood as well.